The miniature Linux distribution 4MLinux sees a new release with stable version 35.0 that comes with updated packages and some new additions.
4MLinux is an independent lightweight Linux distribution that focuses on Maintenance, Multimedia, Miniserver, and Mystery (a collection of classic Linux games).
Recently the team behind 4MLinux team has announced the change of 4MLinux 35.0 series into a stable release version. As a result, the distribution underwent some changes that include updated packages and new features.
What's New
With the new update to a Stable version, 4MLinux brought in some major changes to its packages. In addition to that, some new features are also coming with this release. Here is an overview of the changes in 4MLinux version 35.0;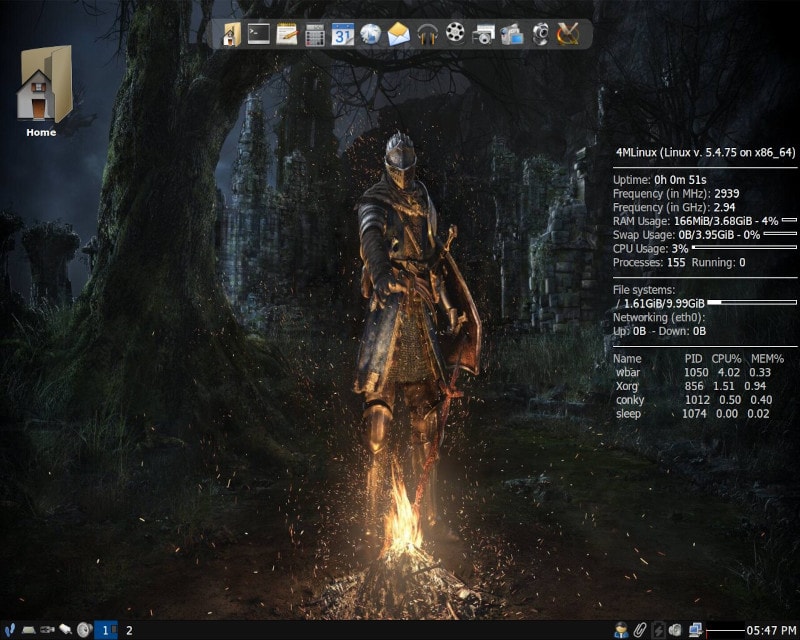 The new version comes with updated packages for office suits including LibreOffice and GNOME office tools. This means that you get the latest stable version of applications in these suits. The update also brings changes to other packages as well.
What's more exciting is that some new features are also included with this release. Let's see the changes one by one.
Package Updates
4MLinux comes with preinstalled GNOME Office tools like AbiWord word processor and Gnumeric. These packages received updates in the latest stable version of 4MLinux.
The package update for GNOME Office includes AbiWord 3.0.4, GIMP 2.10.22 and Gnumeric 1.12.48. You can now edit your documents with LibreOffice 7.0.4.2 and share your files using DropBox 109.4.517. Even though 4MLinux comes with preinstalled browser for surfing the internet, the update brings Firefox 84.0 and Chromium 83.0.4103.116 which can be installed on your system.
You can send emails by using Thunderbird 78.6.0 email client. Under multimedia, you get Audacious 4.0.5 and VLC media player version 4.0.5. Over that you also get mpv 0.32.0.
The distribution comes with preinstalled Wine 5.21 and Mesa 20.1.7. This means that you can play games on your system which are powered by the above two.
If you need to set up a LAMP Server with 4MLinux, updated packages like Apache X, Maria Y, PHP Z can be useful. Not just limited to that, you also get python X, and Python Y along with Perl XYZ.
New Features
Inkscape vector graphics editor is now available as a downloadable extension. This means that you can easily install Inkscape by going under extensions in the start menu and choosing Inkscape to install the application into your system.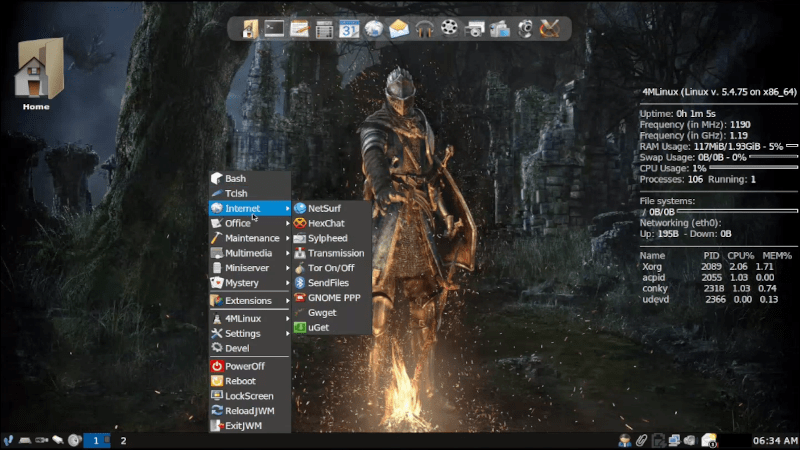 One of the main focuses of 4MLinux is retro gaming. An MS-DOS game Dangerous Dave is now added to the game collection which can be played using DOSBox. The update also includes Notepad++ in the Wine package.
Last but not least, the 4MLinux server receives network scanner Nmap and ircII (IRC client).
Download 4MLinux
If you are already running 4M Linux, you don't need to do anything special to get 4MLinux 35. Just update your system.
You can also download 4MLinux 35.0 Stable version from the official website.
4MLinux comes for both desktops and servers. Here are the minimum system requirements:
Minimum system requirements for 4MLinux (64-bit)
128 MB of RAM when installed to an HDD
1200 MB of RAM when run as a live CD/USB.
Minimum system requirements for 4MServer (64-bit)
256 MB of RAM when installed to an HDD
2400 MB of RAM when run as a live CD/USB.
You can also see a demo of 4MLinux server running here.
Wrapping Up
4MLinux 35.0 is a great lightweight Linux distribution since it requires only 256 MB of RAM. Certainly, you can install it on your old computer.
In addition to that 4MLinux comes with necessary applications and a collection of retro games. It may not look good but if it can put your decade old computer to some use then it serves a purpose.
Have you ever used 4MLinux before? How is your experience with it?
---
More from It's FOSS...