An interesting open-source tool with a very specific use case.
CBconvert is a comic book converter that can convert comics into different formats to fit all sorts of devices.
For me, personally, this will be a first, since I have never tried a converter like this before. Here, I explore and highlight what this tool has to offer.
🚧
The app is fairly new and is in active development. Expect things to change.
CBconvert: Overview ⭐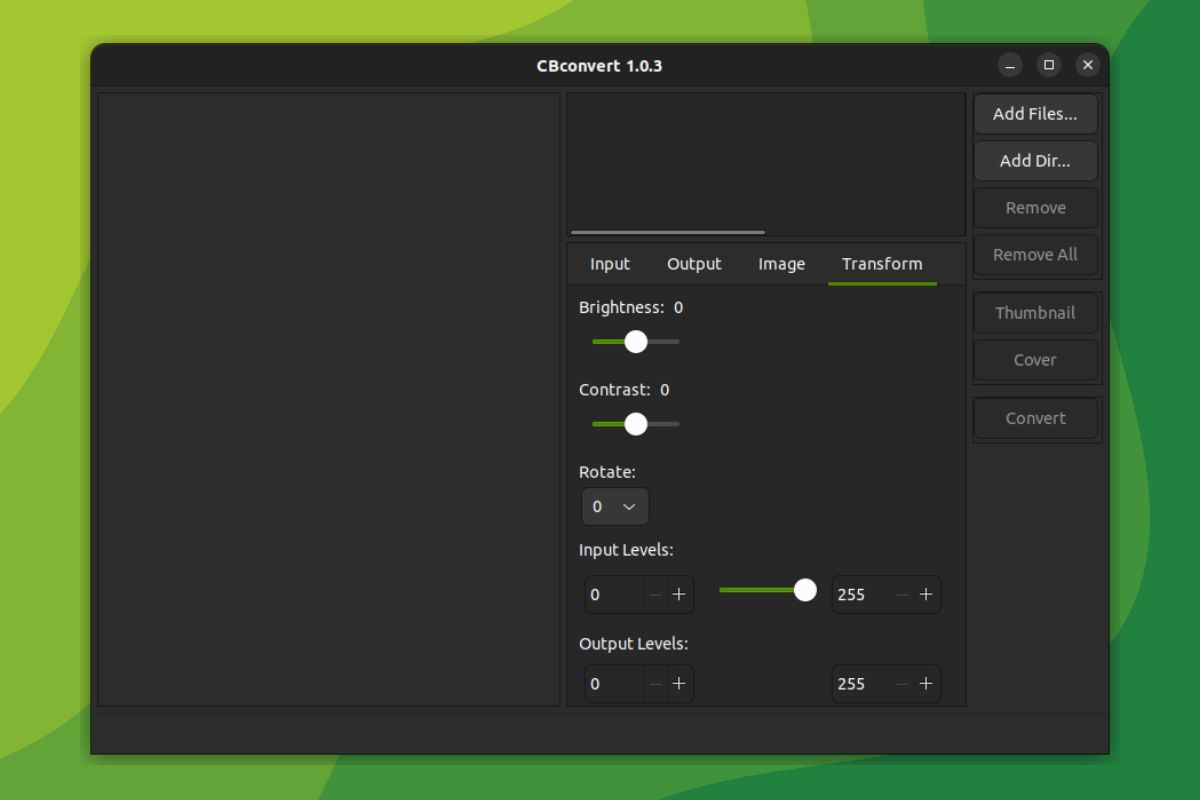 Written primarily in the Go programming language, CBconvert aims to act as a one-stop app for all your comic book conversion needs.
It can read the most commonly used file formats, such as CBR (RAR), XPS, CB7 (7Z), CBT (TAR), PDF, and more.
You can convert those files into two distinct formats, CBZ (ZIP) and CBT (TAR).
Don't think that CBconvert's only purpose is to convert comic books, you can also use it to make some visual tweaks. I'll talk about that in a second.
Key Features:
Useful editing tools
Comic book conversion
Extract cover images from comics
Without any further ado, let's dive into CBconvert.
Initial Impressions 👨‍💻
While the converter can run on Linux, Windows, and macOS, I tried it on a Linux system.
I started by adding a few comics (available in the public domain) to the app by using the 'Add Files' option in the sidebar menu. I was able to add multiple comics, without many issues.
Likewise, I then moved on to take a look at the various function tabs.
The first tab called 'Input' housed a few options, such as to set the minimum size limit, opting for only grayscale images, and more. I didn't need to use those, but the options are certainly useful if you want to add prerequisites to the files you wish to convert.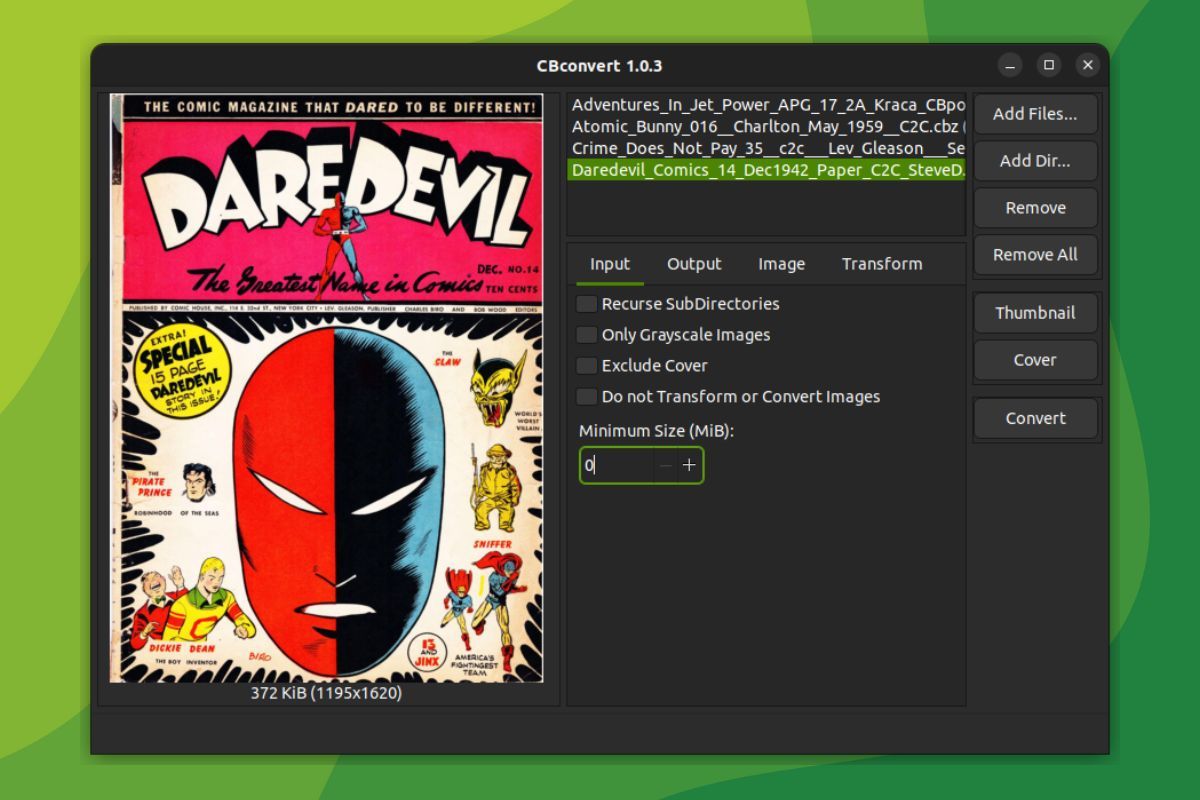 The second tab is where you can do the conversion of comics, it is called 'Output'. I set the output directory, and selected the 'ZIP' archive format for getting a .cbz file output.
It also had the option to add a suffix to the output file, and to remove any non-image files from the archive, as shown below.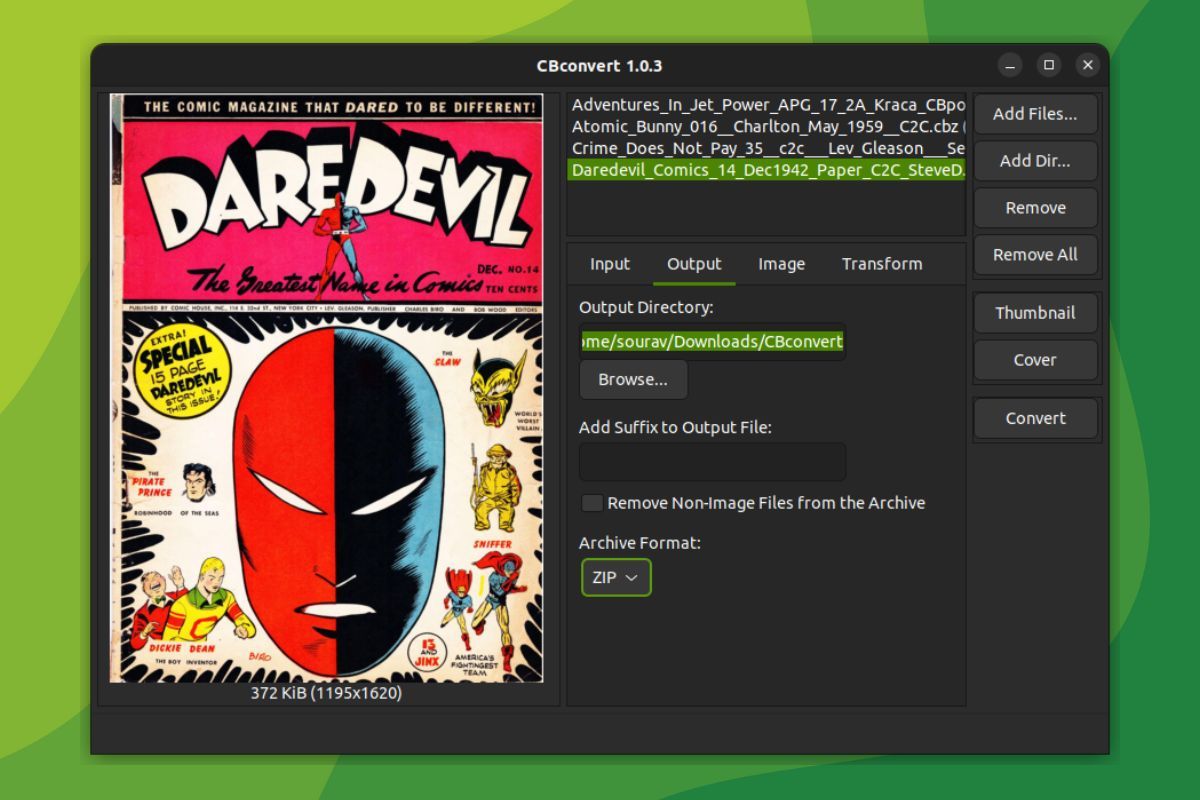 After all the output settings were set, I clicked on 'Convert'. It then started to process all the comics one by one. The operation was quick, with the desired end-results.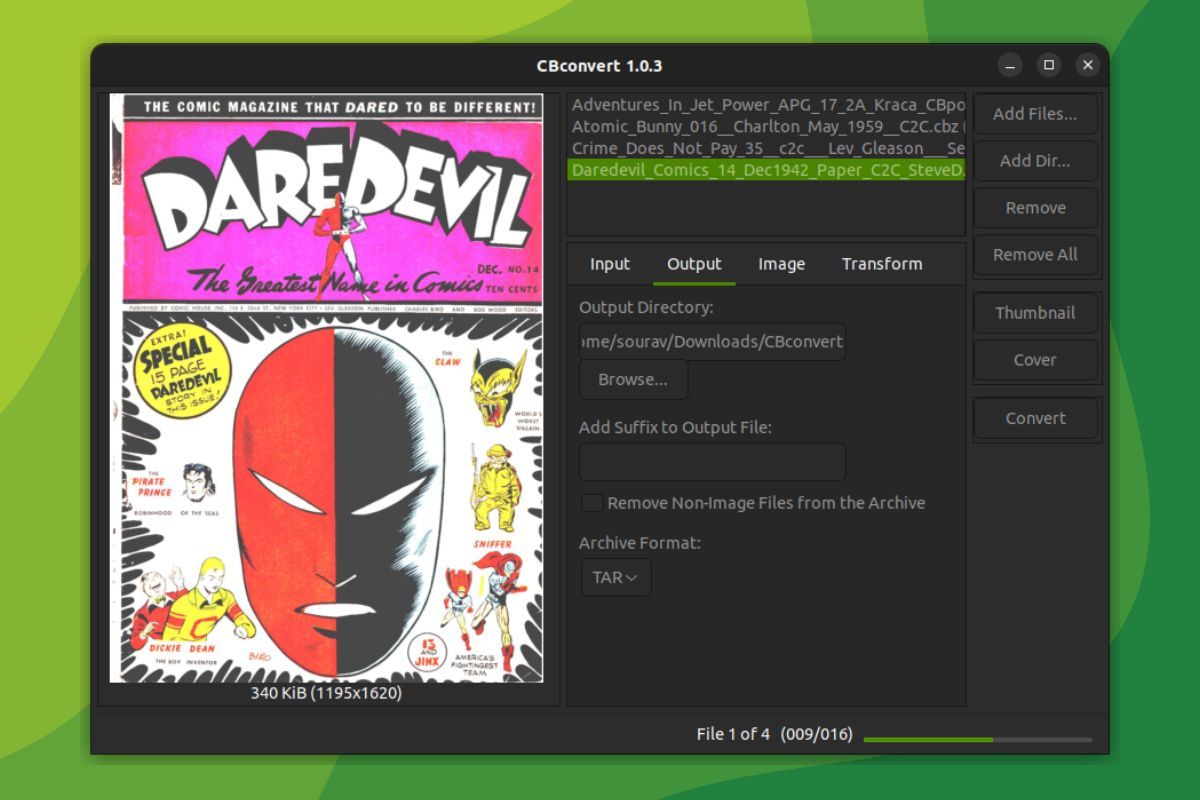 You're maybe wondering; why does this cover look different from the one before?
Well, before converting these comics, I took the liberty of trying my hand at tweaking the visuals of the comic books.
Thanks to the 'Transform' tab that allowed me to play around with various settings such as the brightness, contrast, input/output levels, and more.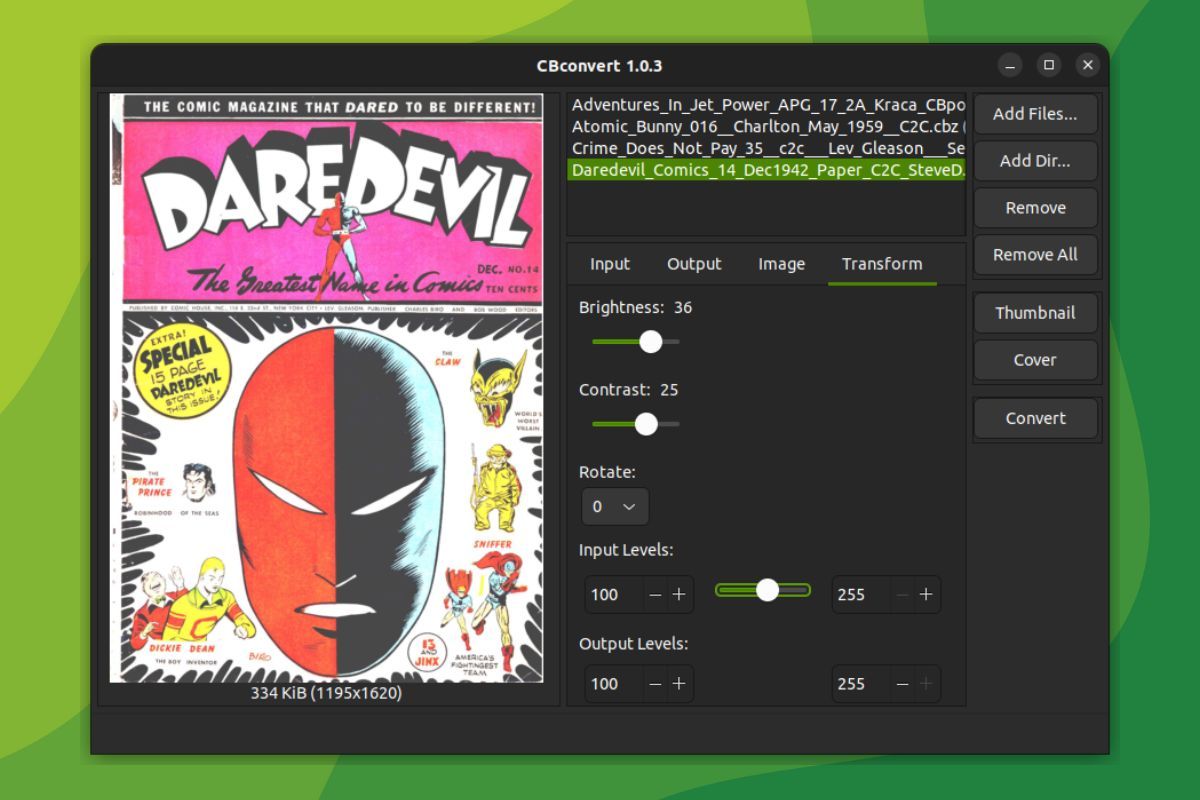 I would say that this feature needs more polishing, as the changes were not being reflected in real-time for a preview, it took some time for the changes to appear.
📋
Do keep in mind that I didn't have to select the other comics, all of them received the same tweaks, alongside the 'Daredevil' one.
Then, there's a third tab called 'Image', it allowed me to export the cover photo in various image formats such as JPEG, PNG, TIFF, WebP and more.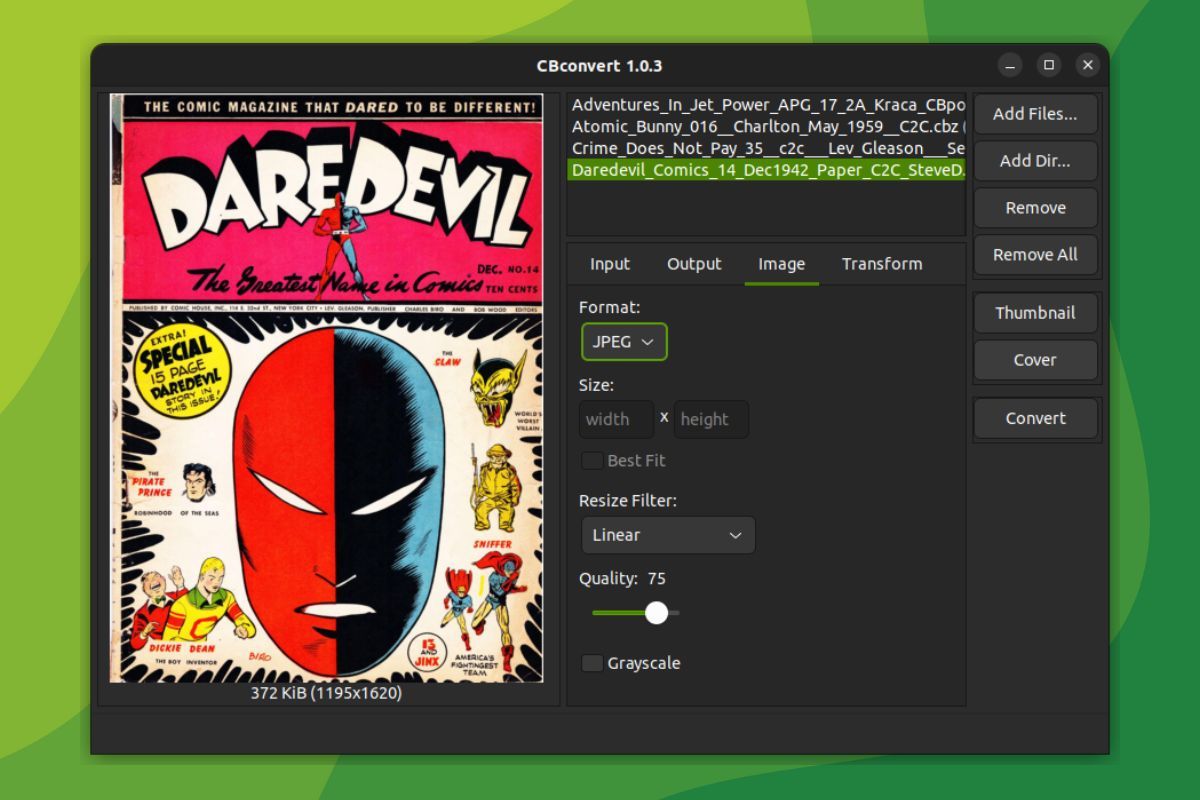 CBconvert also features some options to create a thumbnail from the cover pic, tweak the image quality, make it into grayscale, and even apply some resizing filters to it.
📥 Get CBconvert
You can grab the latest release of CBconvert from its GitHub repo for other platforms, and for Linux, you can opt for the Flathub package from Flathub.
---
More from It's FOSS...