There are plenty of Arch-based distros that try to offer something unique.
Whether it is about making the user experience better, or something that gives you the ease of the customization, there is a distro for that.
You can look at one of our lists to get an idea:
So, what is Crystal Linux trying to achieve here? To provide just another pretty user interface?
Is it something like XeroLinux or Garuda Linux?
⚠️ Well, Crystal Linux is still in its development stage and yet to have a stable release.  So, we cannot really "review" what it is.
But, let us see what it has to offer.
💡 Crystal Linux: What's Different?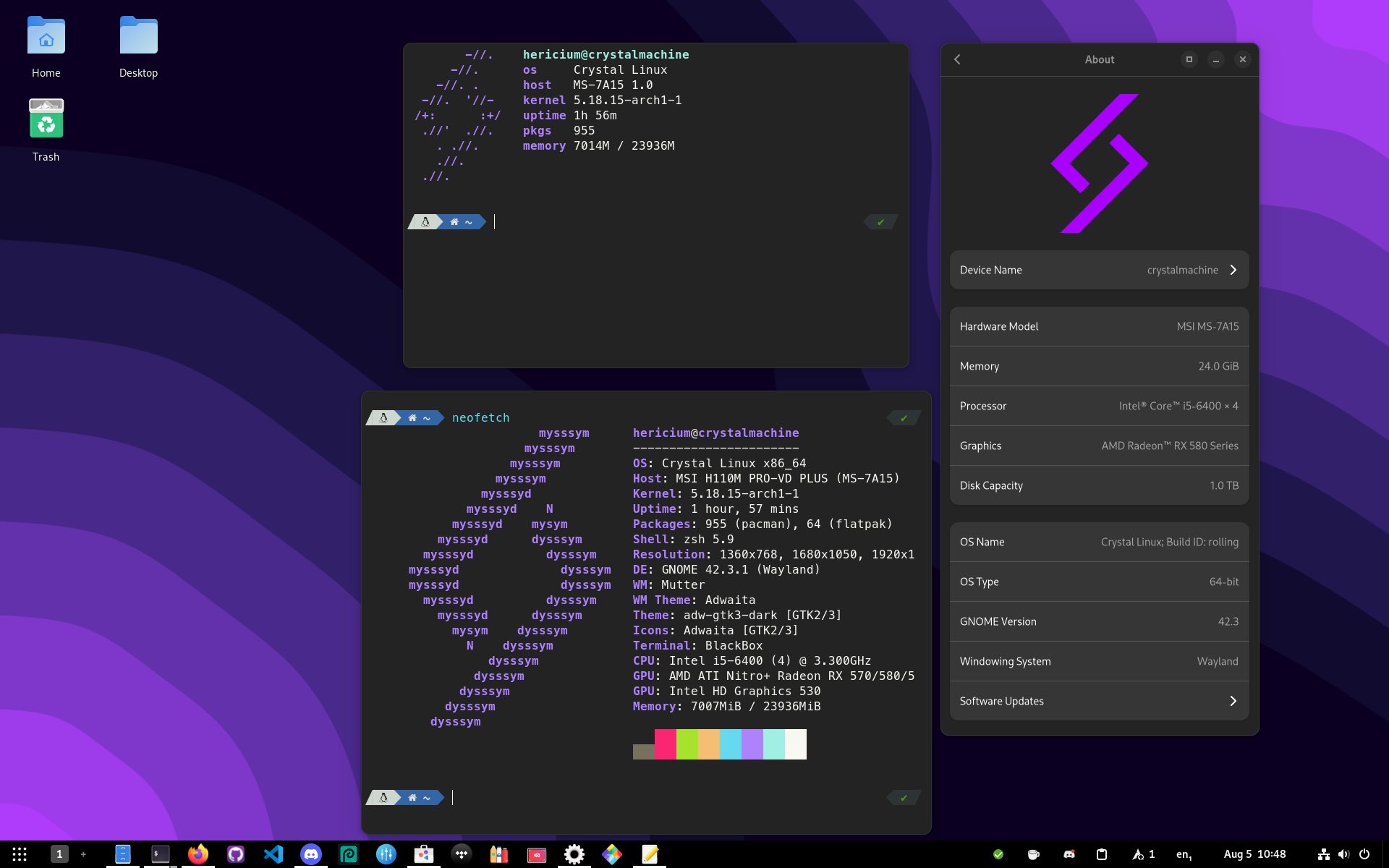 Crystal Linux is an Arch-based distro featuring a customized experience including some tools unique to the distro, and potentially compatible with others.
When asked about its purpose on Twitter, Crystal Linux devs mentioned:
We've realized that a lot of distros are rather "conservative" with the technologies they use, which is why we aim to make a easy to use desktop experience that also uses more modern/less popular Linux technologies. You could say it's the fedora of arch, bringing new stuff.
So, Crystal Linux focuses on giving you the newest technologies, while making sure that it provides a good user experience. Not bad, right?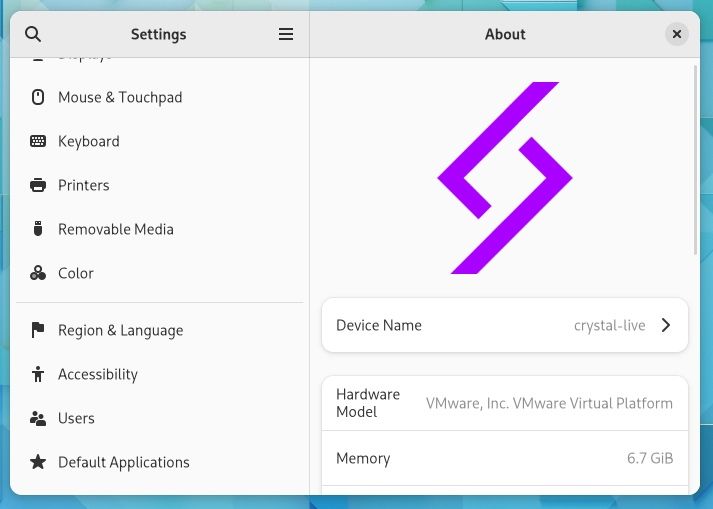 Would that naturally mean that it is meant for beginners?
Actually, no.
Crystal Linux has clarified it as follows:
No, crystal isn't for complete newcomers, it's for people who are a bit used to Linux and want to try some more stuff. It's more centered at people who want a great arch experience with very easy setup process.
And, that brings us to the idea: Crystal Linux makes setting up an Arch Linux distro easy.
🤯 Key Highlights of Crystal Linux
But, how exactly does it make the experience easy? Here are a few things that Crystal Linux offers to achieve this:
A custom GNOME session "Onyx" with customized settings and extensions. You can choose to switch between stock GNOME and Onyx, as per the developers.

A custom GUI installer "Jade" which lets you pick the desktop environment of your choice, allows manually partition, and couple more things when setting up Crystal Linux.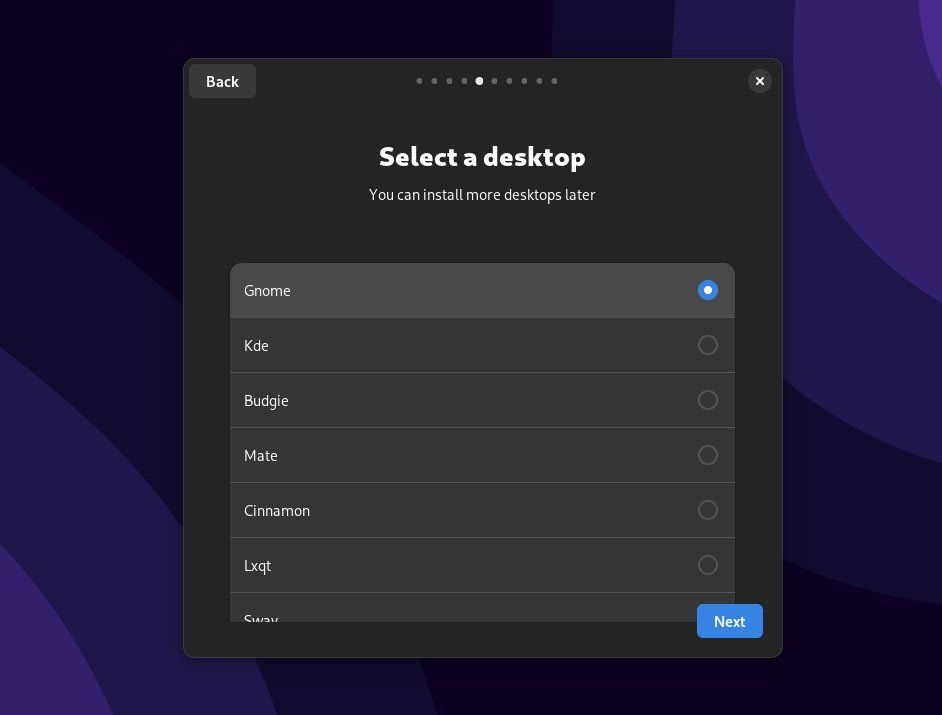 You can also take a look at their mockup designs on GitHub for the installer.
3. A new fast and lightweight AUR helper and Pacman wrapper "Amethyst" built for Crystal, and compatible with other Arch-based distros.
Additionally, they also plan to have their custom extra repository along with the support for chaotic-AUR and Nix: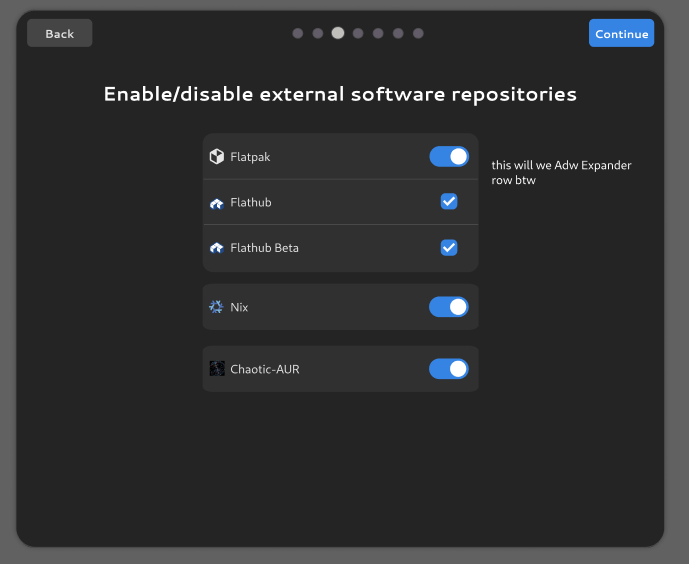 📥 Download and Test Crystal Linux
Considering it is still experimental, you should not install it on your primary system.
But, if you want to give it a try, you can download the ISO from its GitHub page or head to its official website for instructions.
Suggested Read 📖
💭 Thoughts?
Obviously, with another distribution, Crystal Linux devs are trying to ease up the setup process with a unique angle to the user experience.
It may not be entirely impressive for advanced users. But, every effort counts, right?
For now, I'll hold on to any judgements until I get to see the final release, which is expected in November. However, you can expect some of their in-house applications to release before the stable ISO is available.
💬 What do you think about it? Please let us know your thoughts in the comments section below.
---
More from It's FOSS...