EndeavourOS is an Arch-based Linux distribution that is mainly terminal-centric with some GUI tools out of the box. The distribution offers eight Desktop Environments to choose from along with a number of tools to start with.
Recently, the team behind EndeavourOS released their first ISO of this year with the latest Linux kernel 5.10, Mesa 20.3.4-1, Nvidia 460.39-2, and more. This release includes several improvements as well.
Let's see what are the major new features and improvements in this release of EndeavourOS.
New features in EndeavourOS 2021.02.03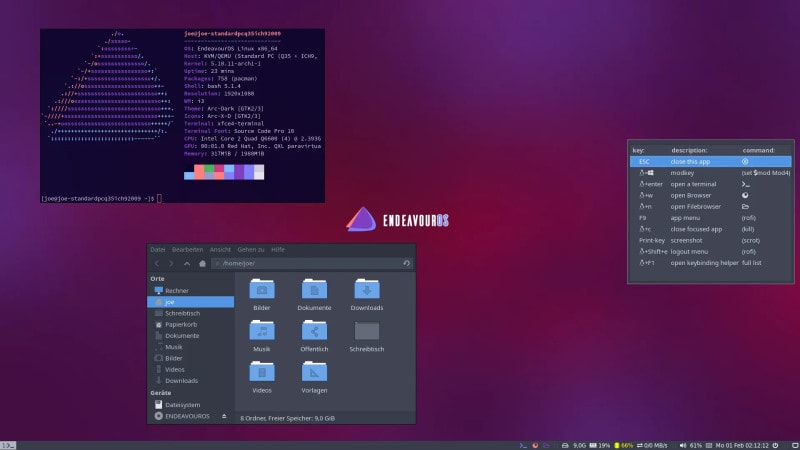 Here is a list of the major new features in EndeavourOS 2021.02.03:
Powered by Linux Kernel 5.10.11.arch1-1
New package versions Mesa 20.3.4-1 and Nvidia 460.39-2
Firefox 85.0-1
Calamares 3.2.34-10
Live environment and offline install updated to Xfce 4.16
A new theme and setup for i3
Since EndeavourOS 2021 ISO packs with the latest and powerful Linux Kernel 5.10, there is better hardware support for your device. On top of that, this release comes with the latest Mesa 20.3 graphics and the latest Nvidia 460.39-2 proprietary graphics driver for NVIDIA GPUs.
Moving toward installation, the developers provide two options, offline installer and online installer. The offline option installs Xfce 4.16 as the default desktop environment. On the other hand, you can choose from eight Desktop Environments Xfce, Mate, LXQt, Cinnamon, Plasma, Gnome, Budgie, Deepin, or Window Manager i3-WM if you wish to go with the online option.
Other new features include, a new theme and setup for i3, the addition of Pacdiff to Welcome for checking the changes on config files after an update. In addition to this, you can now easily configure EndeavourOS update notifier through the Welcome app.
Improvements in EndeavorOS 2021.02.03
The developers improved some features in the live environment and the installation process to make the installation much smoother. Also, the Welcome app now supports Portuguese (BR) and a new Indian mirror has been added to improve the experience of Indian users.
In addition to the above improvements, the latest ISO also adds the Alacritty terminal as one of the supported terminals for native apps. Moving towards the improvements in installation, there is now an option to choose a swap file from the installer when an automatic partition scheme is chosen. Also, if you choose to go with the online install option, mirrors will be automatically updated during the installation process.
Other improvements include better file system support for GTK and QT environments, kio-fuse, kio-gdrive and audiocd-kio installed by default for QT environment and usual bug fixes.
For more details, please have a look at the official release notes.
Download EndeavourOS ISO
You can get the latest ISO from the official website. The download is also available as a torrent if you want.
If you happen to be a curious distro-hopper who wants to try ArchLinux, EndeavourOS surely provides a convenient way to achieve this. Since this release is powered by Linux kernel 5.10 having better hardware support, it is worth trying.
Have you ever used EndeavourOS before? What do you think about this release? Share your thoughts in the comments below.
---
More from It's FOSS...