The upcoming major release of Fedora will feature full access to Flathub and its apps.
You see, back when Fedora 35 was released, the repo definition for Flatpak came pre-installed in the 'fedora-flathub-remote' package, and users did have the ability to enable third-party repositories to get access to Flathub apps.
Even in the recent Fedora 37 release, there was partial support for Flathub via a filtered list that avoided proprietary, unofficial apps or ones with very strict licensing agreements.
That is why you could say that Fedora never fully supported Flathub access.
But all that is set to change as Fedora 38 to enable full support for Flathub, barring any issues, of course.
Fedora 38: Full Flathub Access
The FESCo (Fedora Engineering Steering Committee) recently approved a proposal allowing unfiltered access to Flathub on Fedora systems.
What was proposed?: It is a two-part change that allows for an unfiltered Flathub experience.
First, the whitelist of apps will be removed from the Flatpak remote package, resulting in full access to Flathub's content.
Secondly, a priority order will be put in place that will decide which package to offer by default. The order looks like this:
Fedora Flatpaks
RPMs
Flathub Flatpaks
So, when you use a software manager, Flathub Flatpaks will only be selected when there are no other options.
GNOME Software users can manually switch to a different source for individual applications, but the filtering mechanism will remain in place for future use.
They also shared a table that shows the default app filtering setup for GNOME Software: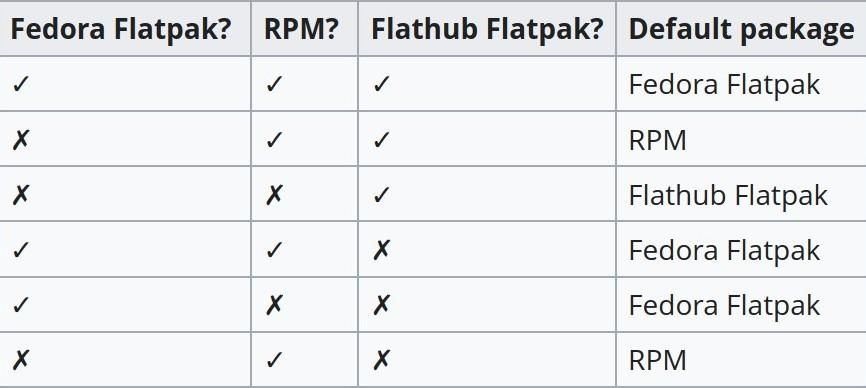 You can head to its official proposal wiki page for more details.
Any concerns that come with the decision?
There were concerns that Flathub was full of repackaged binaries; the Fedora team clarified that presently, around 10% of apps on Flathub were repackaged from another format.
They are only used by Flathub when sources are unavailable or when it is impractical to build an app due to size constraints.
Another issue they tackled in the proposal was the absence of good contact points for Fedora Flatpaks. So, they set up a dedicated group called the 'Fedora Flatpak SIG' that will be responsible for Fedora Flatpaks in the future.
When to expect?: In the upcoming Fedora 38 Workstation release, which is set to release on April 18.
Of course, if they run into any issues with testing this, then they will fall back to the usual filtered Flathub access experience.
💬 What do you think about the decision for unfiltered Flathub access on Fedora 38? Share your thoughts in the comments below.
---
More from It's FOSS...