Ghost is an impressive open-source CMS. We also utilize it for our ethical web portal (Linux Handbook) that focuses on the server-side of Linux.
Ghost 3.0 was an interesting release back in 2019. Now, they've recently announced the next major release, Ghost 4.0 after almost 18 months in the making. Of course, COVID-19 pandemic is to blame for the delay.
But, now that it's here, and is a major release, let us take a quick look at what it has to offer.
Ghost 4.0: What's New?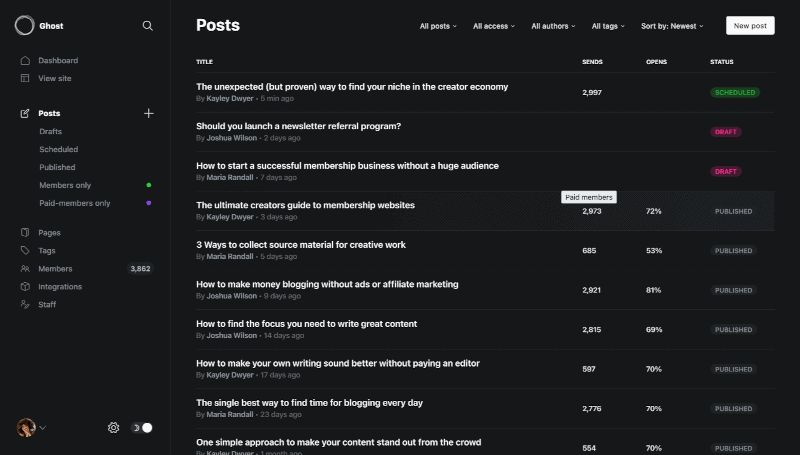 Considering this as a major release, there's a lot to talk about. So, let me briefly highlight the key changes:
A Dashboard has been added
Members and Subscriptions integrated by default (out of beta)
Email newsletter integration by default
Premium subscriptions with Stripe will involve no payment fee
Introduction of a Free migration service for Ghost Pro users (Annual plans)
New premium themes for free
Improved Zapier integration
Automatic, Lazy-loading images
Quick-start setup to ensure new Ghost users don't miss the common settings to create the site
Global marketplace to search for themes, integrations, and experts
Ghost made it pretty simple to focus on publishing content without any unnecessary clutters. But, you still need to know and get some insights on your members/posts to see how everything performs.
So, with Ghost 4.0, there's a Dashboard now that gives you a good idea on your content and members.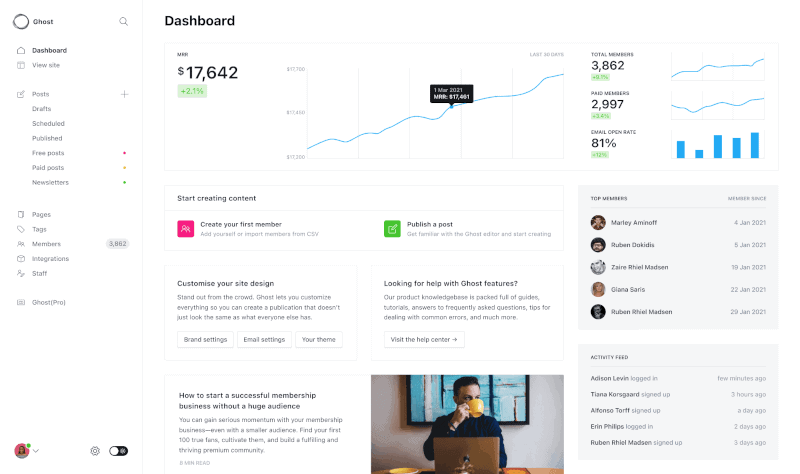 While it's time-consuming to set up memberships and subscriptions on many other platforms (including WordPress), Ghost 4.0 now finally integrates it natively without any issues.
It was already there but in beta phase – now it's out of beta.
Not just limited to the native addition, there's no payment fee for premium subscriptions with Stripe.
They've also added a Members Importer option help you easily migrate your subscribers from other platforms.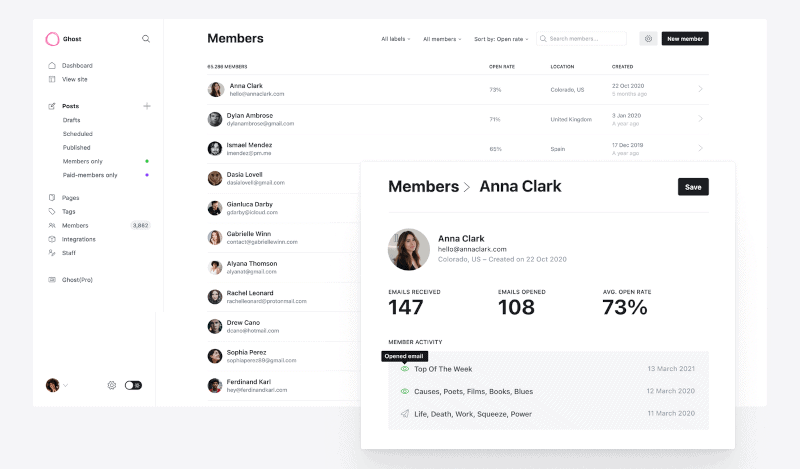 For its hosted (managed) service, Ghost now offers a free migration service for new users. It just includes moving your content, you still have to hire a developer or configure the theme or external integrations yourself.
A quick-setup was added help new users get the common settings right before they begin working on their website.
Also, you can explore themes, integrations, and experts needed for your Ghost site by browsing through the new Ghost Marketplace.
Some other improvements include a better integration support with apps like Zapier, and overall enhancements to the sign-up, billing, login, and other essential functions.
With this release, they've also introduced a starter plan that would cost you $9 per month (billed annually). Personally, I've always considered the pricing plans for Ghost managed option a tad bit expensive to start with. So, the addition of a starter plan is definitely something useful.
In addition to everything I've mentioned here, there are several more improvements and changes that you should find helpful, you can go through the official changelog if you're curious.
On a side note, they're also hiring, you might want to check out their careers page if you're interested.
What do you think about Ghost 4.0 release? Feel free to let me know your thoughts in the comments below.
---
More from It's FOSS...