GNOME removed the application menus and indicators a few years back.
If you are curious, app indicators were a way of interacting with the apps running in the background from the top panel.
Yes, you can add an extension for app indicators to get the same functionality. But, you will no longer find the ability by default on distributions using stock GNOME desktop environment, like Fedora.
However, Ubuntu, some of its official flavors, and other distributions like Pop!_OS support the system tray icons even though GNOME dropped them.
Now, after years of design changes, it looks like we might be seeing something similar.
GNOME to Add a Quick Way to Check Active Apps in the Background
Currently, there's no quick way to find out the apps running in the background without an active window.
You must use the task manager or system monitoring tools for better insights.
With future GNOME releases (probably GNOME 44), you may expect a feature to monitor background running apps right from the menu panel of the top panel.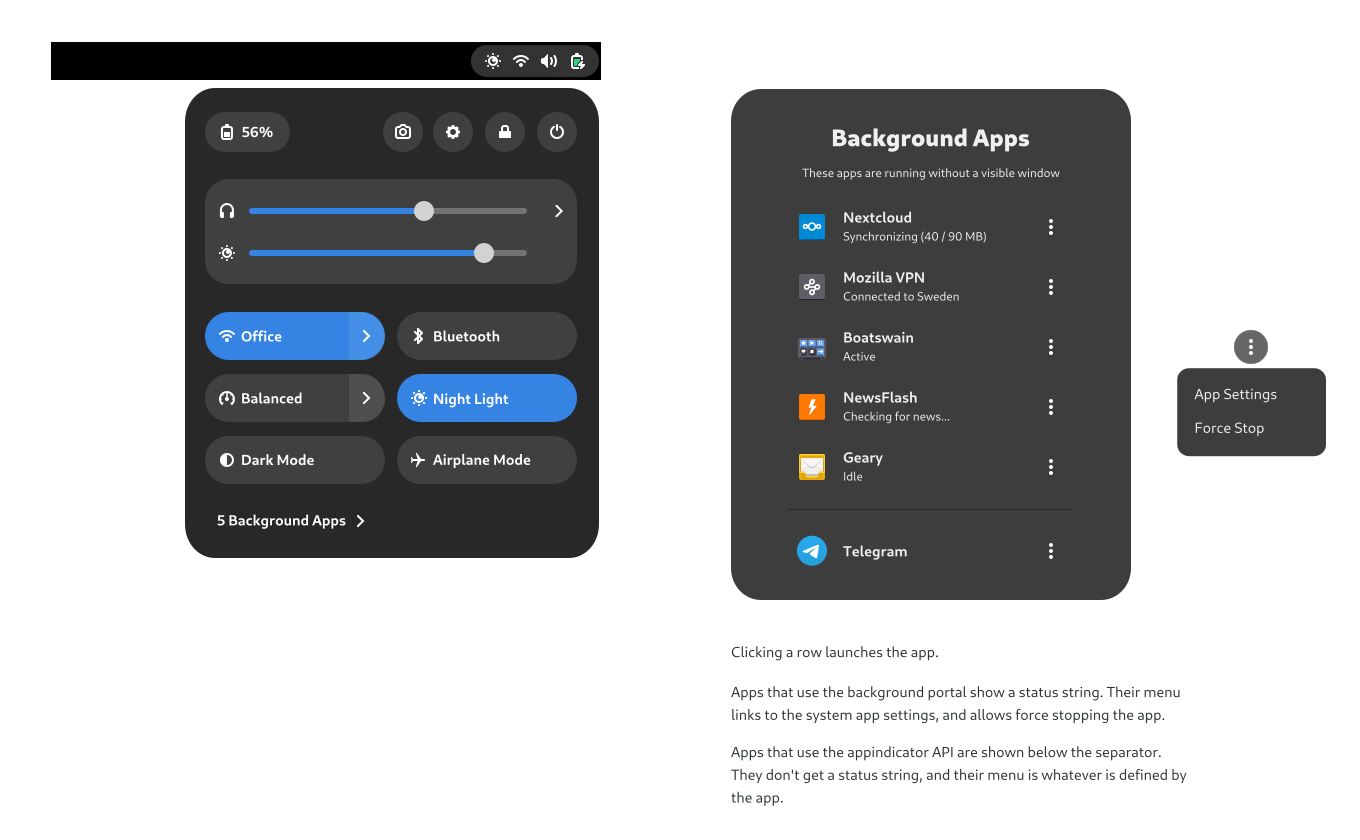 The idea by Allan Day is still in discussion, and a design mockup has been shared. However, there is a good chance that it will be accepted.
This idea has also prompted developer Georges Basile Stavracas Neto to expose Flatpak's xdg-desktop-portal component, making it easy to detect running Flatpak applications.
📋
The placement or design of checking background apps is still a work in progress; what you see above may change with the final implementation.
Would This Bring Back App Indicators Too?
Not exactly.
With this feature, GNOME aims to allow you to quickly see the background running apps and manage them (close them or access specific settings).
However, you still have a few clicks to reach this point 🖱️
The applet indicators or the system tray icons were a faster way to access applications running in the background, even though not every background app was listed.
After all, it is better than nothing.
And eventually, these design changes could result in an intuitive way to get app indicators back in some form.
💬 What do you think about this decision with GNOME design changes for upcoming releases? Share your thoughts in the comments below.
Via: Phoronix
---
More from It's FOSS...