Minds is one of the few alternative social media networks that is built using Blockchain with the promise of providing a free speech platform. The network is governed by cryptocurrency and creators get paid in tokens for creating engaging content.
Minds is not new. It was started in 2015 and hailed as 'Anti-Facebook' by the Wired magazine. However, the recent political scenario in the US has forced many right-wing users to join platforms like Minds with relaxed censoring policy.
Minds is the anti-Facebook that pays you for your time.

Wired
Google sends 24 hour warning to delete Minds app from Play store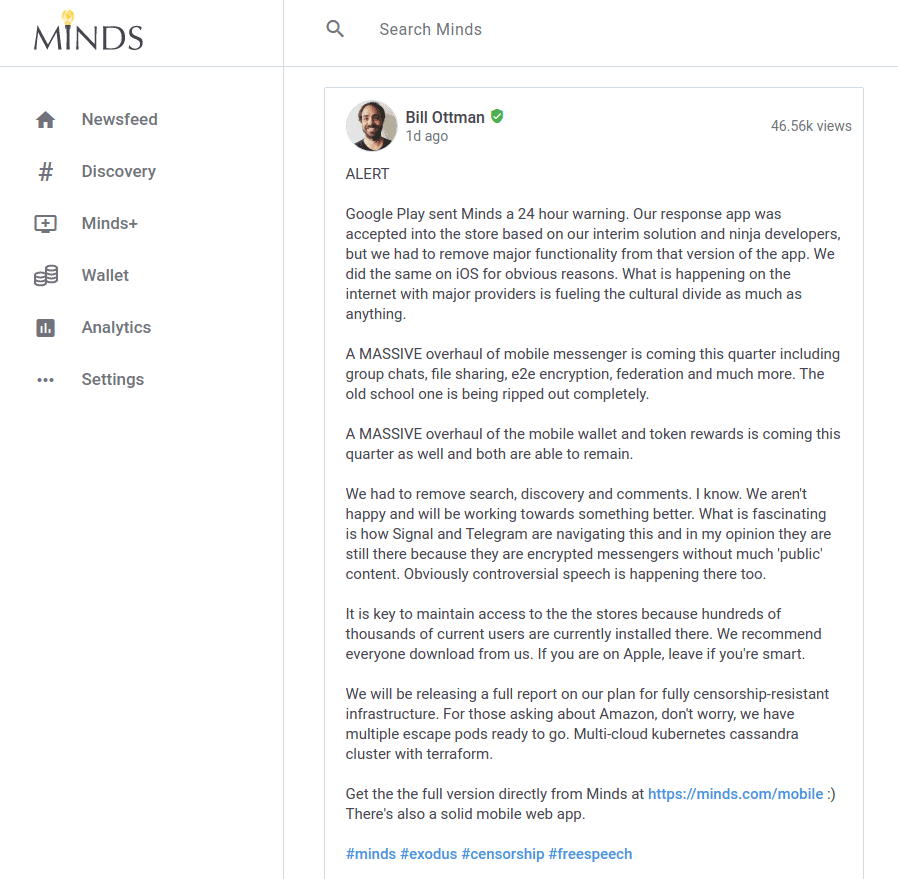 Minds' content policy is based on the First Amendment and governed by a community jury in order to minimize bias and censorship. This means that a lot of content that would be seemed problematic (pro-Nazi, racist and xenophobic) on other platforms goes unchecked here. And that is the basis for Google's action on Minds.
Search, comments and discovery feature removed from mobile apps
As per a post by Minds's CEO Bill Ottman, they received a "24 hour warning" from Play Store. As a response, they had to replace their mobile app with a new version that doesn't include search, comments and discovery features. Their updated app was approved by Google Play Store, for now.
Though no such action was initiated from Apple, Minds replaced their iOS app as well as a precautionary measure.
What is happening on the internet with major providers is fueling the cultural divide as much as anything.

Bill Ottman, CEO of Minds
Sideloading the APK is still an option
For the existing Minds user who wants the full functionality, sideloading is still an option. One can grab the APK file of the full version of Minds application and install it on Android smartphone.
For iOS, there is no such option available.
Minds starts preparing for a 'fully censorship-resistant infrastructure'
Bill reveals that a massive overhaul of mobile messenger is coming in the next couple of months. This includes group chats, file sharing, e2e encryption, federation and much more.
Like Parler, Minds too is hosted on Amazon's AWS and like Parler they too can be booted from the platform. Bill assures Minds users that they have multiple escape pods ready to go thanks to multi-cloud Kubernetes Cassandra cluster with Terraform.
In the end …
It will be interesting to see how things unfold for Minds and other such platforms and if they give in or resist. A couple of media reports against the platforms as pressure building tactics, and they will be annihilated by the Big Tech.
Signal and Telegram messaging services have gained quite a significant user base in the last few days. Media reports have already started calling them safe hub for right-wing extremists and the bad publicity will force them to either restrict their usage policy or face the danger of being deplatformed.
But what about normal people, without extreme views, who don't want to share their data with Big Tech? The entire situation puts them between a rock and a hard place.
---
More from It's FOSS...