KDE finally announced the release of Plasma 5.21. This release focuses completely on usability and the look/feel of it.
Even though KDE Plasma is undoubtedly an exciting desktop environment and evolving over the years, in this article, let's take a quick look at what features and improvements this new version has to offer.
KDE Plasma 5.21 Features
You might want to check out the official video by KDE as well. I'll highlight the important changes as you read on.
New Application Launcher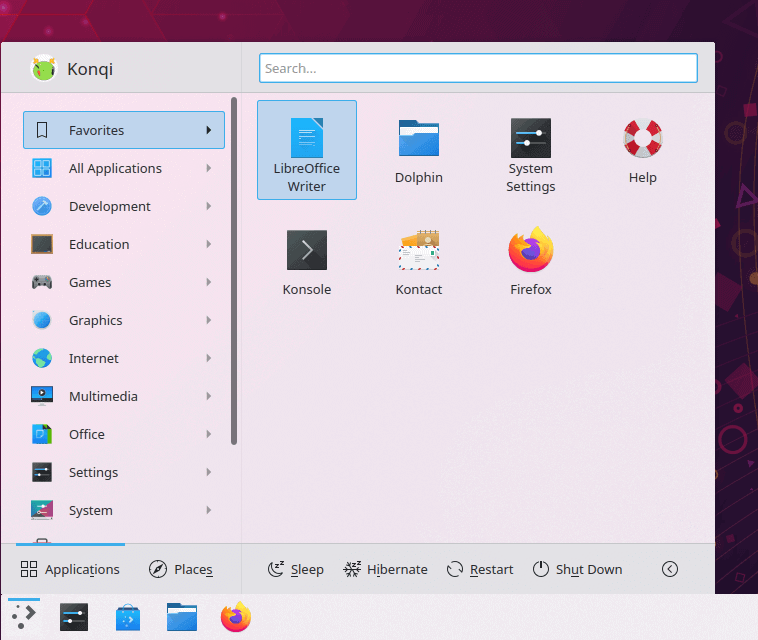 Plasma 5.21 will be shipping with a new application launcher. This launcher will feature a dual-pane interface. KDE has also improved keyboard and mouse navigation. They also improved support for languages written Right-to-Left. The launcher has three layouts: "All Applications", a grid-style favorites, and power actions. The KDE team fixed many bugs that have been reported by the community.
You can still find the old Kickoff app on the KDE store.
First Class Wayland Support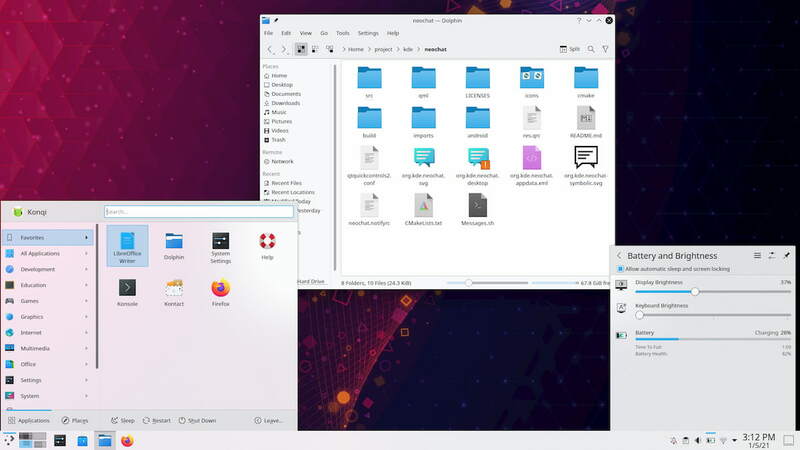 KDE's goal is to add first-class support for Wayland and Plasma 5.21 is a big step towards that goal. They added support for multi-monitors with different refresh rates under Wayland. The virtual keyboard had also been upgraded with support for GTK apps. Support for tablets has been improved and includes features that were missing, such as "pad ring and pad buttons". Several Plasma components received better Wayland support, including laying the groundwork for GTK4 support.
KWin (KDE's window manager) has been "extensively refactored" to reduce latency. They also added an option to choose between "lower latency or smoother animations".
Plasma Mobile Upgrades
The announcement included two new features for Plasma Mobile, KDE's phone offering:
The Plasma Phone Components contains the mobile shell but also specific plasma widgets adapted for Plasma Mobile.
They also introduced QQC2 Breeze Style, which is a "pure Qt Quick Controls 2 style" and is optimized for low RAM and GPU use.
Theme Updates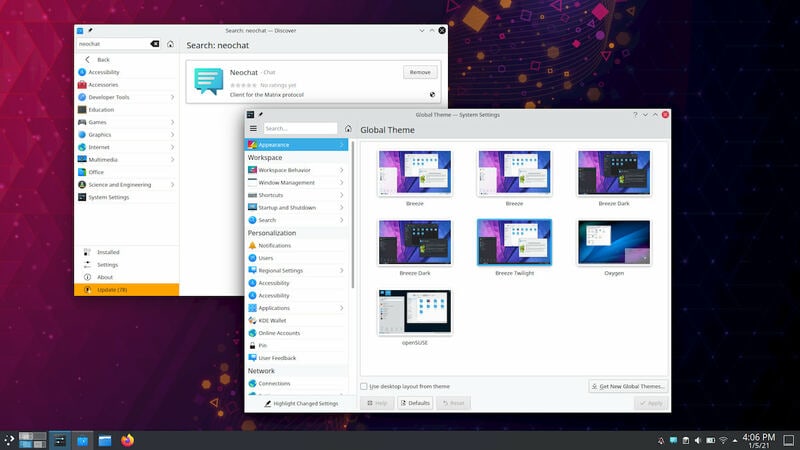 The Plasma devs took the opportunity to give the default theme a tune-up. According to the announcement, the default theme has "a refreshed color scheme and sports a brand new unified headerbar style with a clean, cool new look".
Not just limited to that, they are also including Breeze Twilight. This is a new theme that combines a dark theme for Plasma and a light theme for applications.
New System Monitor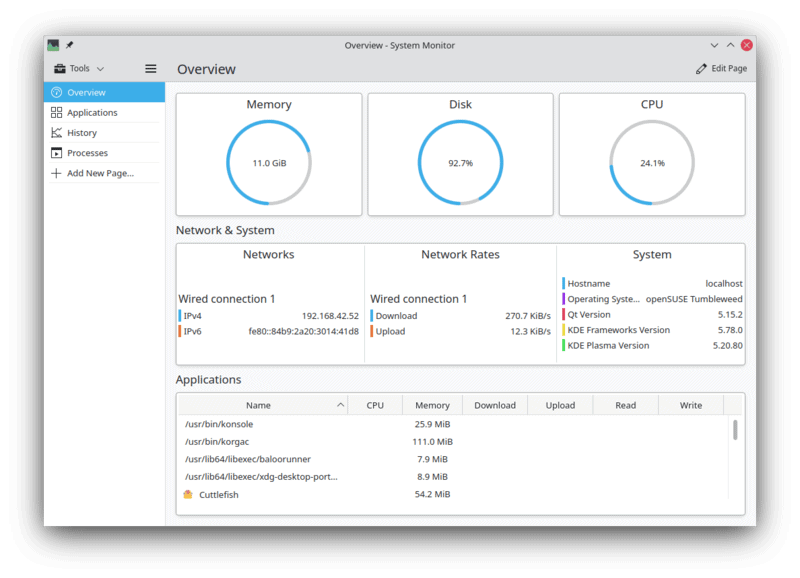 Plasma System Monitor is a new interface being released to track system resource usage. It is designed to replace KSysGuard. This application uses part of the code from the system monitor applets introduced in Plasmas 5.19.
It has an overview page that shows all of the important stats at a glance, including "memory, disk space, network and CPU usage". You can also see what applications are using the most resources.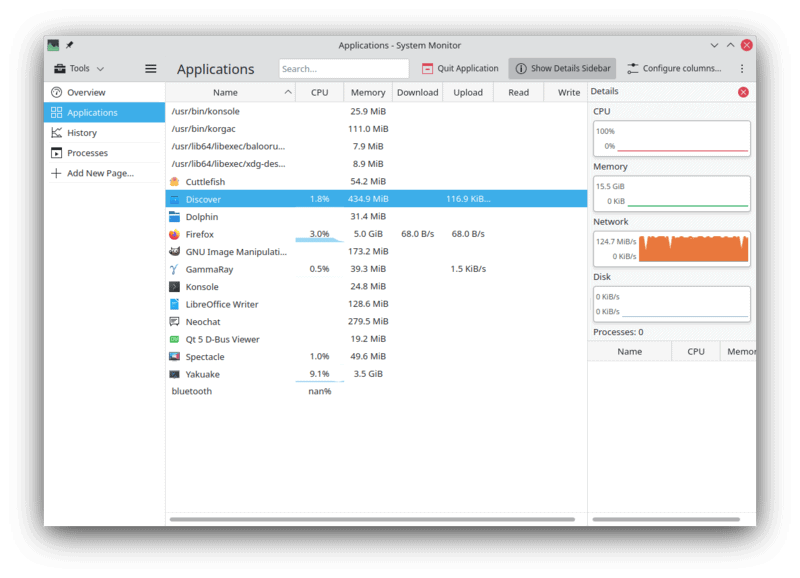 If you want more detail, Plasma System Monitor will show you detailed stats and graphs for each running application. A History pane shows the use of system resources over time. There is even an option to create a custom report showing only the stats you are interested in seeing.
System Setting
Plasma 5.21 includes a section of the System Setting, Plasma Firewall settings. This allows you to set up and configure a firewall. This works as a front end to UFW or firewalld. Multiple configuration pages have been rewritten from scratch.
Miscellaneous Changes
The update also includes the following updates:
The Media Player applet now lists the application playing music
Discover now supports unattended updates
You can pin KRunner so it does not automatically close
The digital clock now has better support for timezones
The sound apples now shows microphone volume
You can view the full changelog here.
Wrapping Up
With each KDE Plasma release, it looks like more exciting things are being added – which is a good thing.
If you want to get your hands on the latest KDE offerings, I'd suggest trying out KDE Neon.
What do you think about KDE Plasma 5.21? Let me know your thoughts in the comments down below.
---
More from It's FOSS...