A new Kdenlive update (21.04) has arrived as part of KDE app upgrades.
This release isn't limited to resolving some issues or applying marginal updates, but it should give a boost to Kdenlive through significant contributions, varying from interface improvements to new media features.
In case you're hearing about Kdenlive for the first time, let me briefly give you a description:
Kdenlive stands for KDE Non-Linear Video Editor. Non-linear means that editing can be done in any order that suits your needs, and the original media files are never overwritten. Kdenlive is written in C++ with the Qt and KDE libraries. The MLT framework enables Kdenlive to integrate many plugin effects for video and sound processing.
Now, back to the news, Kdenlive 21.04 brings awesome functionality implementations.
Kdenlive 21.04: What's New?
Here, I will be highlighting the key changes that come with this new release.
Speech to text
A new feature that performs automatic audio to text transcribing using Vosk. It supports many languages using the official Vosk models.
Effects
The ability to delete all effects in selected clips has been added, as well as the ability to directly download LUTs (Lookup Tables) from the interface.
You can now add texts with an animated typewriter effect that can be transitioned by word, character, or by line.
There's also an alpha strobe effect that can be applied to videos, images, or text.
Interface and Usability Improvements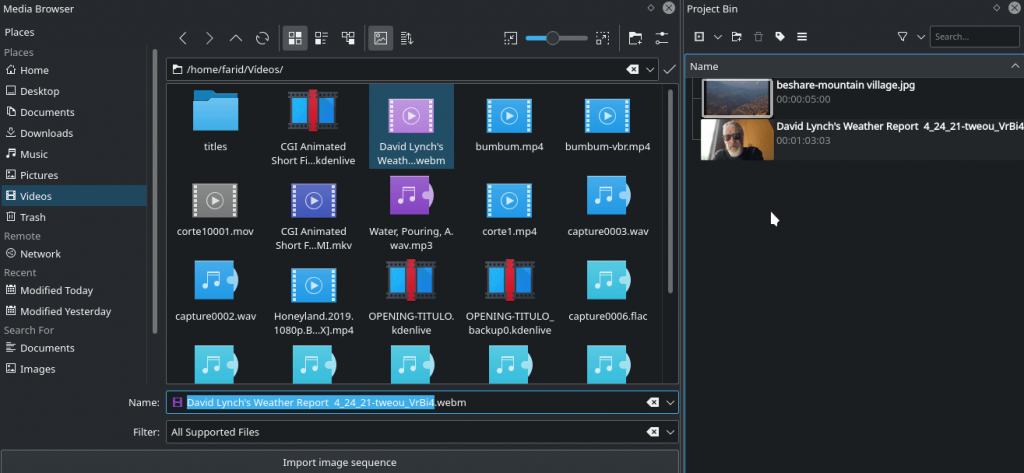 There are a few improvements to the user interface to simplify and enhance the workflow.
Kdenlive users know very well that the zoom bars lie within the monitor, and now zoom bars are now available in the timeline too. Zooming in or out in the timeline is simply done by dragging the edges of the timeline horizontally.
Unlike the previous version, the timeline now has good-looking marker/guides colors, and they're moved for visual efficacy.
Adding clips directly to the Timeline or Bin is now easily doable right from the new media browser. You can enable that from the view options.
The keyframe panel has also received some updates that feature new icons and new functions. Moving a selected keyframe, duplicating it, or applying a custom value to it is as easy as Ctrl + clicking it.
You will also find a new "Effect Zones" – whether you need to apply effects to specific regions of a track or the timeline, Effect Zones will help you with that. You can easily set them either from the effect zone bar or from the interface in the effect panel.
The two well-known source footage providers Pixabay and Pexels, are now available in the new online resources' widget alongside Freesound and Internet Archive, which were already available. It is now easier to use clips using these resources without forgetting to give credit to people behind the footage. It is seamlessly done by importing the license attribution as a project note. That's handy!
Other Changes
Add AV1 render profile.
Append "unused clip" filter in Project Bin.
Allow channel selection to audio waveform filter.
Add ITU 2020 colorspace in clip properties.
Re-enable audio playback on reverse speed.
Improved Flatpak support.
Allow keyboard grab of subtitles.
Treat GIFs as videos, not as images.
Fix many compile warnings and prepare for Qt6.
Fix wipes for slideshow clips.
Alpha shapes: allow going outside the screen.
You can explore more about the changes in their official announcement post.
Download Kdenlive 21.04
You can download and install Kdenlive 21.04 to test it or run it using its universal AppImage.
Using AppImages is almost always a good way of installing software on different Linux distributions, but there's also a PPA and a Flatpak package available.
This new release basically addresses major issues and changes to cope with Qt6.
So, will you give it a try? If so, leave a comment down below on how you find this latest update
---
More from It's FOSS...