Linux Kernel version 5.9, which was released around mid-October, has reached its end of life. This means that it won't get security and maintenance updates anymore.
You shouldn't be surprised or get panicked about it. Kernel 5.9 was a regular kernel release and like most regular kernel release it had a lifespan of 10-12 weeks.
Kernel 5.9 got its last update in the form of 5.9.16 and its maintainer, Greg KH, suggested users of the 5.9 kernel series to upgrade to kernel 5.10 LTS.
… this is the LAST 5.9.y kernel to be released unless something really odd happens. Please move to 5.10.y at this point in time, the 5.9.y branch is now end-of-life.

Greg Kroah-Hartman
Greg also marked kernel 5.9 as EOL on the official Linux kernel website.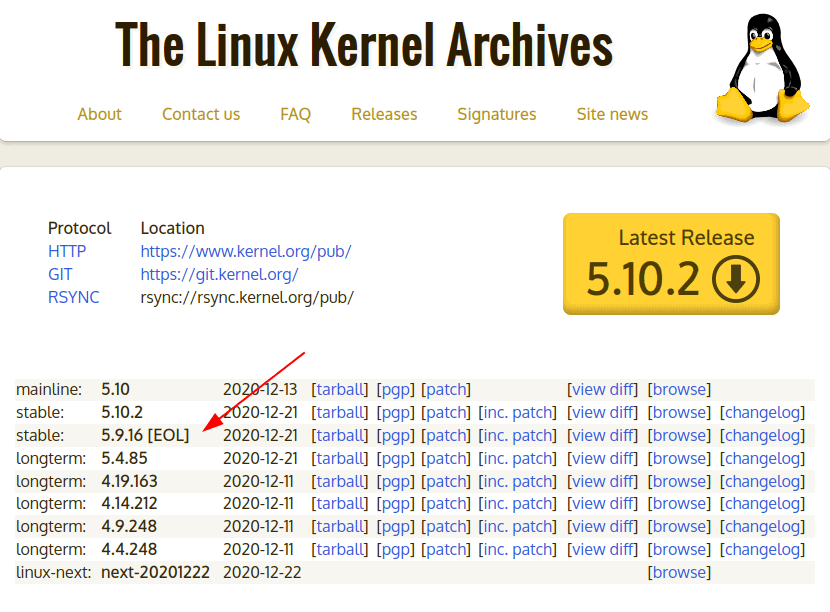 Here's what you should do if you are running kernel 5.9
If you are new to these things, don't panic. The first thing you should do is to check which Linux kernel version you are running.
Open a terminal and use the following command:
uname -r
This will show you the Linux kernel version.
Now, the chances are that you are using a kernel version provided by your distribution. Your distribution often provides and maintains an older kernel version for you. In such cases, you should do nothing. Just keep your system updated.
If you are using Kernel 5.9 on the system, you should download and install the latest stable Kernel 5.10 release. The good thing is that it is a long term stable release and will be supported for some years.
You can use your distribution's package manager to install the newer kernel. We have discussed the method to install mainline Linux kernel in Ubuntu, Debian and Arch Linux in the past and you may refer to it, if you need any references.
---
More from It's FOSS...