The popular open-source office suite LibreOffice recently released the latest version 7.1.
In the official announcement, they emphasize on it as a community release considering that it is not tailored for enterprises and their support needs.
This new release brings additions to LibreOffice Writer, improved performance in Calc, physics-based animation in Impress, improvements in the user interface, and more exciting things.
Let's see some of the key additions and improvements in this version of LibreOffice.
LibreOffice 7.1 Key Changes
LibreOffice 7.1 brings some new features and several improvements to its office suite. Here is an overview of some important features in this release:
The Graphical User Interface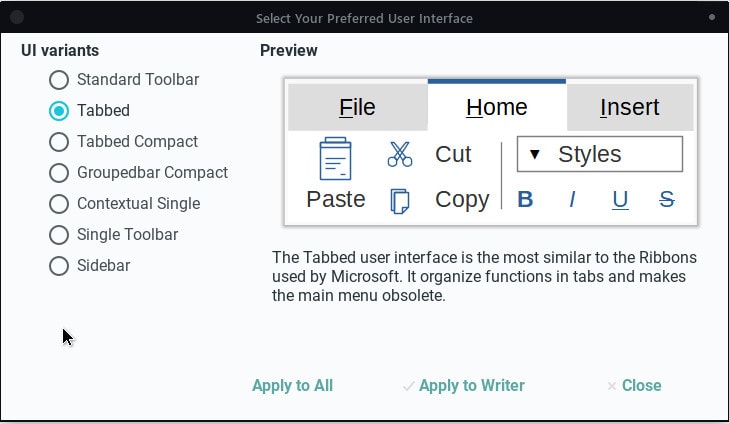 You can now choose a User Interface flavor with the new dialog in LibreOffice 7.1. This shows you a preview of the different arrangements available.
Changes in LibreOffice Writer
A major new addition in Writer is the Outer Folding Model. This allows you to expand or collapse any heading section with a new arrow button. You can enable this by going under Tools ▸ Options ▸ LibreOffice Writer ▸ View. But first, you need to enable the experimental settings.
Also, several table formulas come with this release for Word compatibility. These new table formulas are PRODUCT, ABS, SIGN, and COUNT.
In addition, LibreOffice 7.1 brings a style inspector for displaying all the formatting properties.
Other additions in Writer include Input field toggle, ODF sub-table conversion for converting ODF documents created with OpenOffice.org 2.2 and older to modern row-span tables.
Changes to LibreOffice Calc
The biggest improvement in LibreOffice Calc is with the merged cells. You can now copy merged cell structure as other spreadsheets do. This release fixes lost merging and bad linear sequence of numbers during fill with merged cells.
Also, the spreadsheet function INDIRECT now supports local scoped names. On performance, there are improvements in spell checking and in Autofilter. The Autofilter search is now instant.
Changes in LibreOffice Draw, Impress, and Math
You can now add visible signatures to existing PDF files in Draw. There are no other big changes in LibreOffice Draw, but Impress got some exciting additions.
In addition to some SmartArt improvements when importing from PPTX, you are now able to change animations for several objects at once. And that is not it, shadows are now more interesting with realistic soft blurred effect for objects.

On top all these additions, this release brings physics-based animation capabilities to the program. You can use the new presets to run physics-based animations in LibreOffice Impress.
Moving to Math, the program now has the full support for HTML colors. Some of them have been added to the UI on the Attributes section in the Element pane.
Core Changes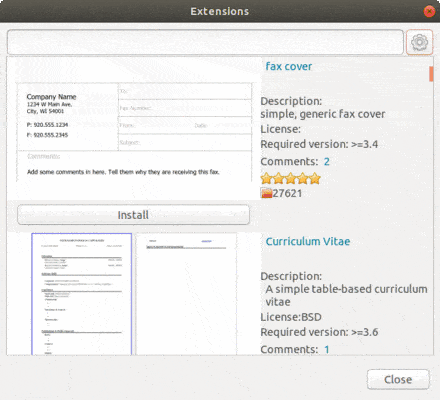 The biggest improvement, in general, is the introduction of a new dialog called additions. This makes it easier for you to get and install extensions with one-click, which in previous versions was not a straightforward task.
Besides this, there are many minor improvements such as the ability to change the sorting filter according to the desire, and improvement to the print preview UI.
Improvements to DOCX import/export filter
There are some small changes here – support is added to change tracking in the floating table. Also, a workaround is added for ABOVE/BELOW/LEFT/RIGHT arguments in SUM, AVERAGE, etc. table functions importing. Now, Writer converts all those arguments into cell range like <A1:A10> and saves them into DOCX as a cell range.
Other changes include better handling of cached field results in the writer, and Support keeping the spacing below the last paragraph in the header in doc/docx files.
Improvements in Localization
LibreOffice brings support for two more regional varieties of English; English Kenya, and English (Hong Kong) with locale data. In addition, dictionaries for English (GB), French, Hungarian, Italian, Korean, Portuguese (Brazil & Portugal), Slovenian, and Spanish are all updated.
Other Improvements
You will find several subtle improvements in LibreOffice Help, interoperability with DOCX/XLSX/PPTX files, performance, ScriptForge libraries, and several other stuff.
To get all the details for what has changed, you can refer to the official release notes of LibreOffice 7.1.
Download LibreOffice 7.1
Since this is the latest release, your Linux distributions may take some time to provide you an update to this version of LibreOffice through their official repositories.
In either case, LibreOffice 7.1 is available to download as RPM and DEB packages on the official website.
As a LibreOffice user myself, I am quite excited to see all these changes and improvements in the office suite.
What do you think of the changes in LibreOffice 7.1? Let me know in the comments below.
---
More from It's FOSS...