Humble Bundle is a digital store that provides limited-time massive discount deals on games, e-books, audiobooks and software. Stuff that normally cost hundreds of dollars are made available in under $20. That's not the end of it. Part of each sale goes to a charity or non-profit organization.
In short, you get awesome stuff at throwaway prices and at the same time your purchase support a charity organization. Humble Bundle deals are ethically satisfying for this reason.
One of the current deals on Humble Bundle is an ideal choice for you if you are looking to improve your existing Linux knowledge or learn the devops tools like Docker, Kubernetes, etc.
Linux by Apress: Humble Book Bundle
The "Linux by Apress" bundle consists ebooks like The Linux Philosophy for SysAdmins, Using and Administering Linux: Volume 1, and Linux Sound Programming. It also has books on Kubernetes, Docker, Containers and Virtualization.
In total, the ebooks cost over $1,000, but you can get them from $1 to $18. The ebooks are in DRM-free format which means you actually own these books and are free to transfer between your devices unlike Amazon Kindle.
Part of your purchase will be donated to either Khan Academy or Jane Goodall Institute. You can also choose to donate part of the purchase to It's FOSS as we are partners with Humble Bundle.
What do you get in the Linux by Apress Bundle?
The book bundle is divided into four sections, and it's up to you to pay what you want beyond the minimum base price.
If you pay $1 or more, you get all these eBooks: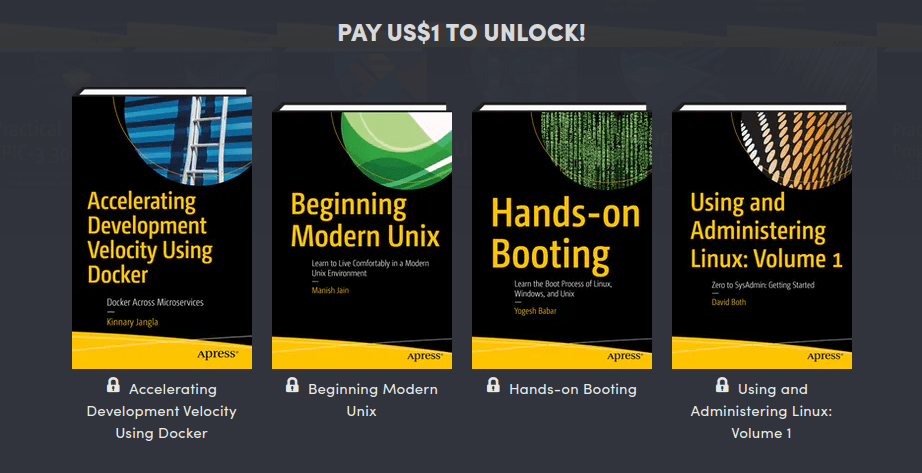 Accelerating Development Velocity Using Docker
Beginning Modern Unix
Hands-on Booting
Using and Administering Linux: Volume 1
If you pay $8 or more, you will get the following books in addition to all the previous books: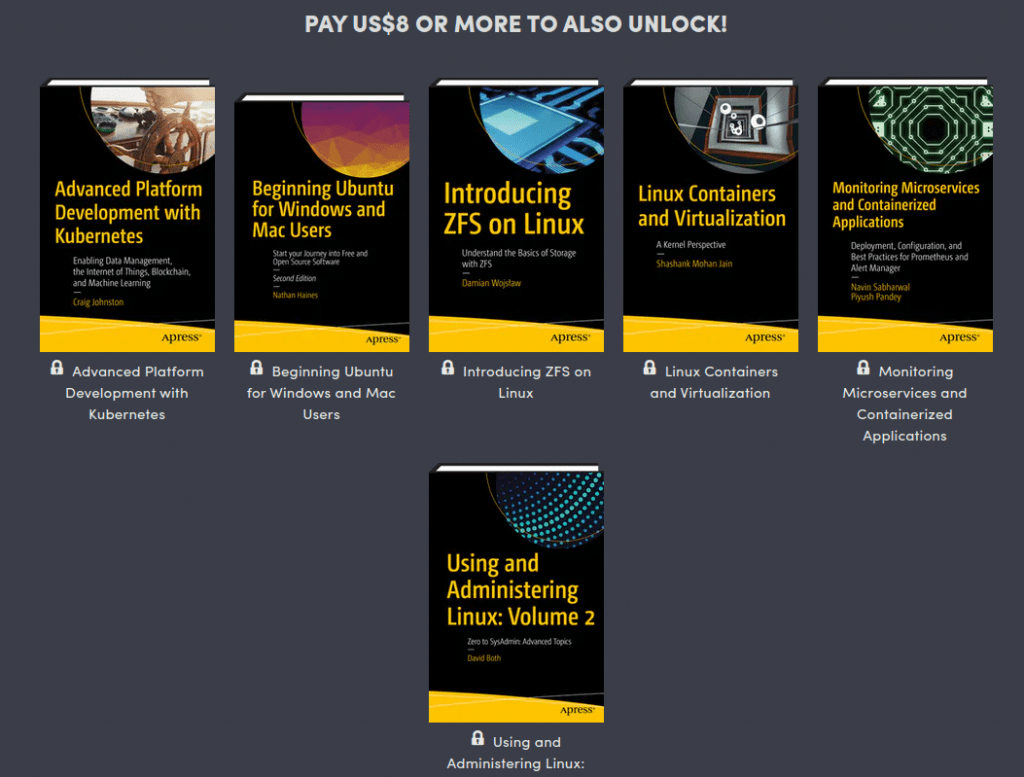 Advanced Platform Development with Kubernetes
Beginning Ubuntu for Windows and Mac Users
Introducing ZFS on Linux
Linux Containers and Virtualization
Monitoring Microservices and Containerized Applications
Using and Administering Linux: Volume 2
If you pay $15, you get these books as well: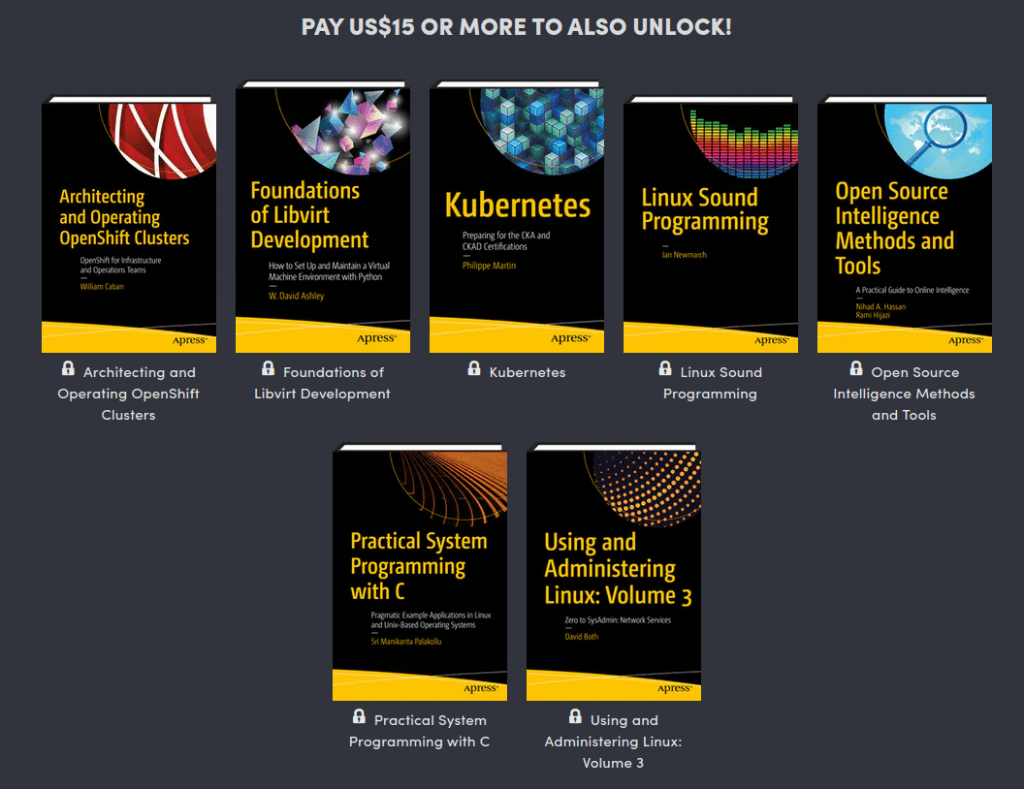 Architecting and Operating OpenShift Clusters
Foundations of Libvirt Development
Kubernetes: Preparing for the CKA and CKAD Certifications
Linux Sound Programming
Open Source Intelligence Methods and Tools
Practical System Programming with C
Using and Administering Linux: Volume 3
And if you want to get the entire bundle, it is available for $18 and in that you get 8 more books: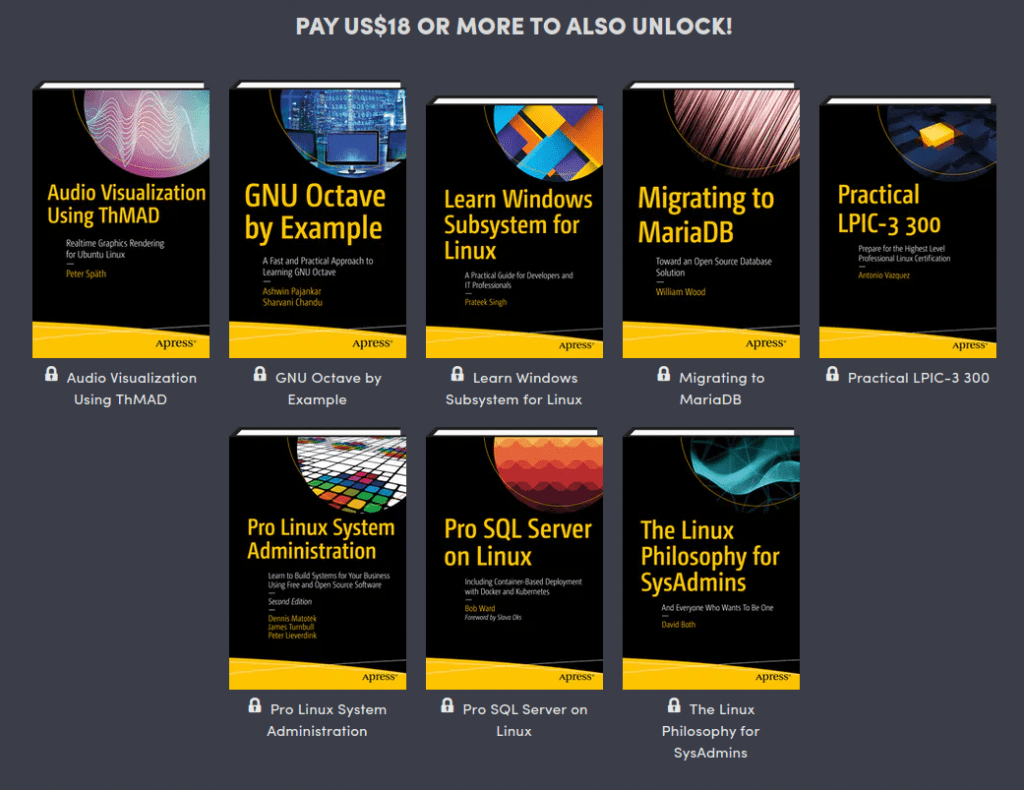 Audio Visualization Using ThMAD
GNU Octave by Example
Learn Windows Subsystem for Linux
Migrating to MariaDB
Practical LPIC-3 300
Pro Linux System Administration
Pro SQL Server on Linux
The Linux Philosophy for SysAdmins
This book bundle is available till 18th January 2021 only. Hurry up!
Don't miss the deal if you want to improve your Linux knowledge
Only occasionally we get Linux books deals on Humble Bundle. At It's FOSS, we always try to help you with Linux as much as possible and I believe that you may find this deal helpful in your Linux journey.
To recap on why you may want to consider getting this book bundle:
DRM-free Linux, Docker and Kubernetes eBooks in PDF, MOBI and ePub formats.
Books can be downloaded any time in future.
You can gift the book bundle to a friend, colleague or family member.
Indirectly contribute to charity and non-profit organizations.
You may not need all the books in the bundle but there will surely be some books you can read to learn or improve your Linux skills.
Personally, I plan to read ZFS on Linux because some distributions like Ubuntu have started supporting this new filesystem. What about you?
Note: It's FOSS is an affiliate partner with Humble Bundle. As mentioned earlier, part of the sale may be shared with us with no additional cost to you. Please read our affiliate policy for more info.
---
More from It's FOSS...