Linux Mint's next release, based on Ubuntu 22.04 LTS, is around the corner. We should expect a release candidate later in the month of May.
In the last monthly blog post, Clem Lefebvre (Linux Mint founder) revealed that Linux Mint 21, codenamed "Vanessa," will be the next upgrade based on Ubuntu 22.04 LTS.
Update: In a new blog post on May 8, 2022, the Linux Mint team launched the new upgrade tool that you can use to upgrade LMDE 4 to LMDE 5.
It will also support the three editions with Cinnamon, MATE, and Xfce.
In addition to that, Clem also shared some exciting details on the new upgrade tool planned to make the process seamless.
Linux Mint Upgrade Tool
Yes, Linux Mint already has an upgrade tool to help you make things easy. It required access to the command line for a few things for the upgrade, now you do not need to worry about that.

The new upgrade tool plans to improve it further to efficiently handle complex releases starting with Linux Mint 21 and LMDE 5.
The new upgrade tool is now available on GitHub. As of now, you can download it from the official repositories.
For LMDE 4, here's what you need to do:
apt update
apt install mintupgrade
sudo mintupgrade
When type in the above commands, it will launch the new upgrade tool that you will be using to upgrade from Linux Mint 20.3 to 21 and LMDE 4 to 5.
After the upgrade's done, you can use the following commands to remove the upgrade tool:
apt remove mintupgrade
sudo reboot
That's fantastic news, considering it minimizes the hassles involved in the upgrade process.
Note that Mint 21 is not yet available. So, you can only use it for Linux Mint Debian Edition 4 and upgrade it to LMDE 5.
Let's explore more about it.
A GUI program "Upgrade Tool" where you just have to follow the onscreen instructions, sounds perfect, right?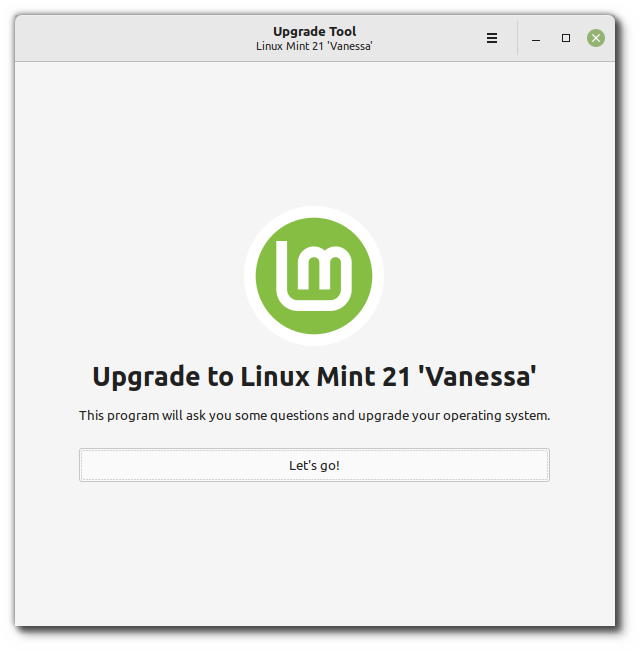 The key highlights of the new upgrade tool include:
It lets you do everything within the GUI, with no command-line needed.
Enabling localization (the current tool only supports English)
Adding more checks like if you're connected to AC power, free space available, list of removed packages, etc.
Introducing more user control by letting you skip some of the steps (you must know what you're doing)
It respects the current choice of mirrors only if it's up-to-date.
Checks for existing custom repositories and PPAs to see whether they support the upgrade, and it does not remove them automatically.
Warns you about the packages that are no longer in the repositories.
Ability to detect common issues, and a one-click button to fix them.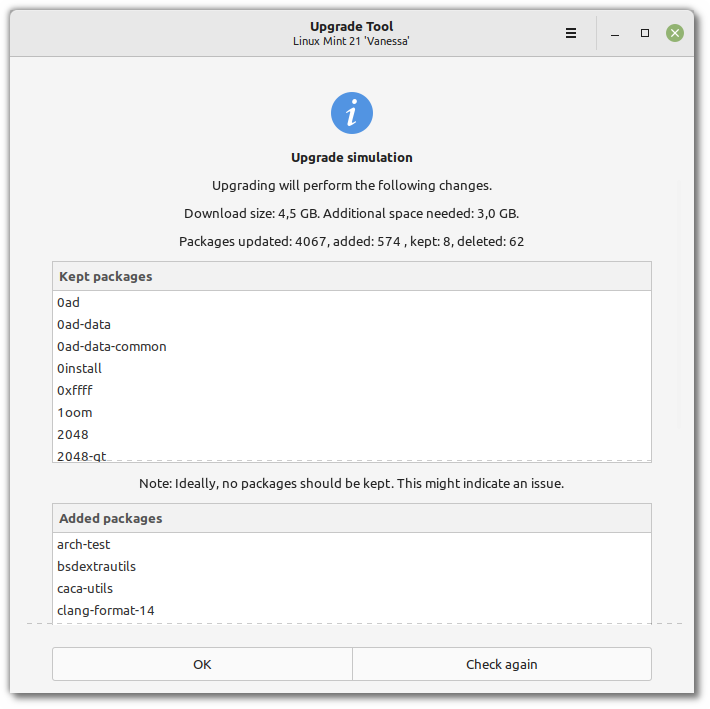 Clearly, the screenshot shared by the Linux Mint team shows that you get numerous details and more useful stuff with the upcoming upgrade tool.
However, note that even with a better upgrade tool in place, you should use tools like Timeshift to back up your existing data to avoid data loss.
Not to forget, there are more developments regarding Linux Mint and other tools, you can take a look at the official blog post to learn more.
What do you think about Linux Mint's new upgrade tool? Let me know your thoughts in the comments below.
---
More from It's FOSS...