LumiCube is an all-new experience powered by Raspberry Pi. It is a Raspberry Pi kit with 192 LEDs combined with a 2W speaker, a microphone, and several sensors all inside a 10 cm cube. What makes it interesting is that everything is programmable with python, meaning that it is highly customizable.
You can make it your digital assistant, your digital clock, an aesthetically pleasing showpiece, and what not?
The project is currently raising funds at Kickstarter. So, here, let me highlight a few things about it before you decide to back it up.
Note: We're in no way affiliated with the product featured here nor this is a sponsored post. You need to decide for yourself if you find it interesting to back the project on Kickstarter and trust the startup company.
LumiCube Raspberry Pi Kit
Before we move on any further, Here is the list of all physical features in LumiCube.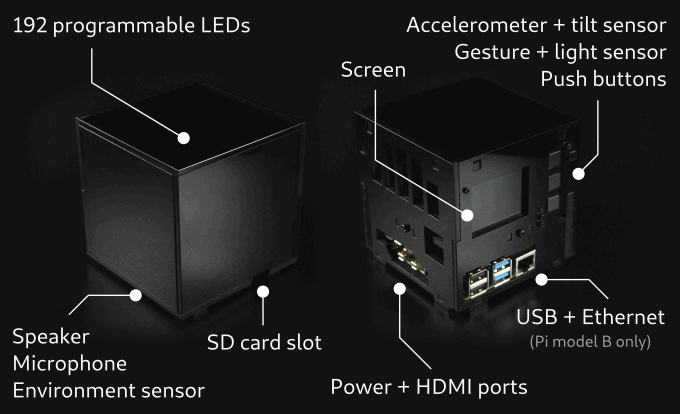 192 programmable LEDs
2W speaker for music and sound effects
A microphone for recording audio, sound levels, and voice recognition.
320 x 240 IPS screen which can draw images and text.
A Light / Gesture sensor to detect light levels and hand gestures
Accelerometer with a tilt sensor to accurately detect the 3D angle of tile, acceleration, and direction of gravity.
Environment sensor for recording temperature, humidity, and pressure.
SD card slot, HDMI, Ethernet, and USB ports.
This device is designed for all, whether you are a beginner or an experienced software developer, or someone interested in technology, LumiCube is a new way to explore the powerful Raspberry Pi. The enclosure is laser-cut acrylic and is made for Raspberry Pi 3 and Raspberry Pi 4.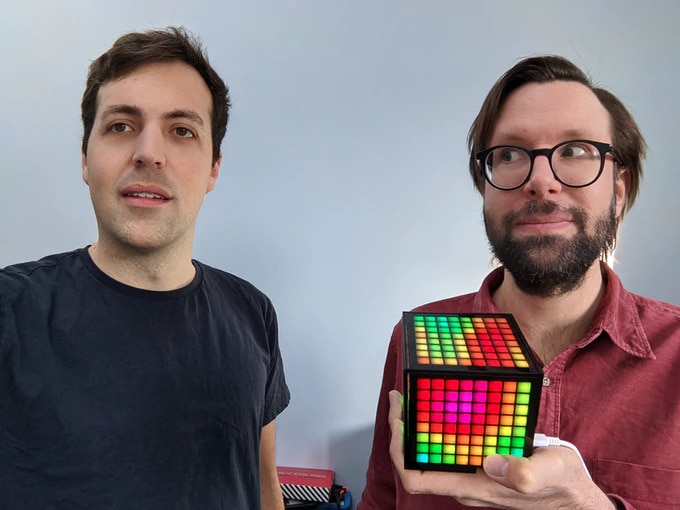 An interesting thing about this device is that you don't necessarily need to know much about coding because there is a collection of built-in apps that you can make use of.
Also, LumiCube can be programmed to serve as a control center for smart home devices. On top of that, everything is open source, so you can tweak the software to your liking. The device has built-in wifi as well.
Applications of LumiCube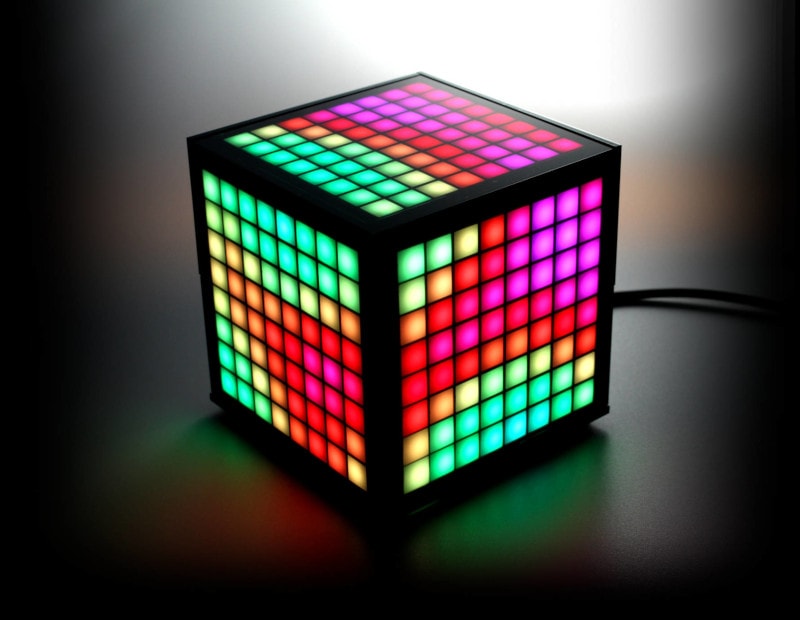 Since this is a programmable Raspberry Pi kit, it up to to you what to do with the device. You can use it as an alarm clock, a voice-activated home assistant, a timer, a music player, etc.
One cool function is that if you choose the screen Add-on, you can use hand gestures, or buttons to control the cube. Besides, If you choose the Interactive Add-on, you will be able to make it react to movement or rotation. You need to separately purchase the add-ons if you want.
With the environment sensors in LumiCube, you can monitor your home or office environment. In addition to that, the Interactive Add-on features of the environmental sensor automatically record the values of all its sensors over time.
The developers added that users can use their browser-based coding environment, and they have worked to reduce complexity so that users can achieve results with just a few lines of code.
With the built-in Wi-Fi, you will be able to receive traffic information, bitcoin price, and more.
The Kickstarter Project and Pricing
The project has already surpassed its target of approximately $7000 and is currently at $79,965. The Kickstarter funding is open till Fri., April 30, 2021. Pledges start from $110.66.
Here is the pricing of LumiCube if you're curious:
Base Cube
Acrylic Case, 3 LED panels, Speaker, Microphone
$ 124.45
Screen Add-on
2″ screen, Buttons, Light/Gesture sensor
$ 34.58
Interactive Add-on
Temperature sensor, Humidity sensor, Pressure sensor,
IMU – Accelerometer and tilt sensor
$ 34.58
Raspberry Pi Add-on
Raspberry Pi 3A+, Power supply, SD card with software pre-installed
$ 76.06
Concluding Thoughts
LumiCube is developed by two London based engineers Sean Bremner and Matthew Taylor. This device is inspired by plug and play electronics. The developers added that their mission is to develop an environment where anyone can create their electronics and make it super simple to program.
LumiCube seems to me like a unique Raspberry Pi Kit, with its built-in sensors and other electronic components, the possibilities are endless. Since, the project is doing well in Kickstarter funding, we can hope for other amazing projects from the same developers.
You can explore more about it in its Kickstarter page or their official website.
So, what do you think about this new Raspberry Pi Kit concept? Let me know in the comments below.
---
More from It's FOSS...