Manjaro developers have announced the availability of a new stable release. The latest Manjaro 20.2 release is codenamed Nibia and it features the latest GNOME 3.38, KDE Plasma 5.20 and Xfce 4.14 desktop environments.
In the Star Trek universe, Nibia is a planet with multiple moons.
What's new in Manjaro 20.2?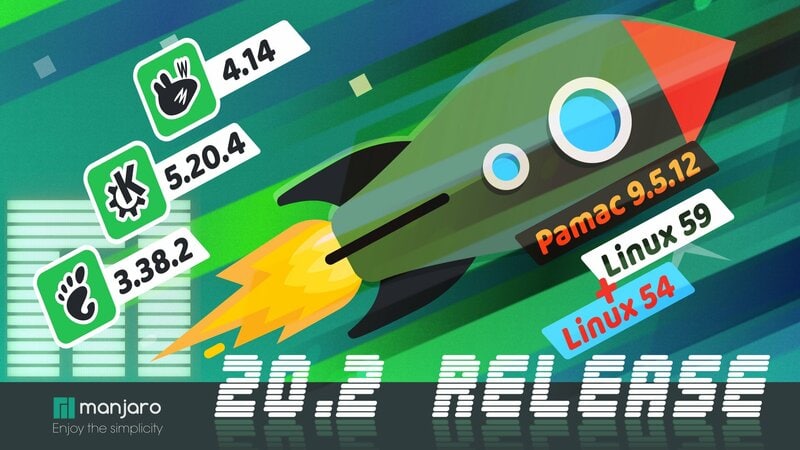 Here are some of the main features in Manjaro 20.2 release.
Linux kernel
Manjaro 20.2 has the latest Linux kernel version 5.9. This brings latest hardware support to Manjaro. There is also a minimal-ISO available with kernel 5.4 LTS version.
Improved Calamares installer
Manjaro Linux uses Calamares installer. In the latest release, Calamares sees some improvements. It now supports encrypted systems without encrypted /boot partition. This enables graphical password dialogs, using non-us keymaps for inputting passwords and shorter boot times compared to full disk encryption. Automatic partitioning still uses full-disk encryption by default.
Changes in GNOME edition
GNOME 3.38 is already full of new features so you get all of them in Manjaro now. This includes performance enhancement, improved application grid, fingerprint support, multi-monitor support improvements among many other features.
Manjaro's Application-Utility now lets you choose your favorite browsers, office suites and password managers.
If your fan of tiling windows, Manjaro now includes intuitive Pop-shell and the touch friendly Material-shell. You can enable them from the GNOME-Layout-Switcher.
Manjaro now uses Wayland by default for non-Nvidia hardware.
Changes in KDE edition
The KDE edition of Manjaro now has the latest stable Plasma 5.20 desktop. It consists of Wayland improvements, grid-like system tray, new power saving options, improved settings-center, touch support in dolphin and more.
Changes in Xfce edition
The Xfce edition upgrades to Xfce version 4.14. This version has improvements for multi-display configurations, reduced display flickering and changes in the Thunar file manager. Overall, you get a polished, integrated and leading-edge Xfce experience with Manjaro Xfce edition.
How to get Manjaro 20.2?
Since Manjaro is essentially a rolling release distribution, you don't need to do anything special if you are already using Manjaro. Just keep your Manjaro system updated and you'll have all the features of Manjaro 20.2.
If you are not using Manjaro, you can download Manjaro 20.2 from its official website. You'll find various desktop flavors of Manjaro. Choose the one you like.
This is the second and, I am making an intelligent guess here, last Manjaro release for the year 2020. With the latest desktop environment versions and Linux kernel, Manjaro users should be set for next few months.
---
More from It's FOSS...