The tech giant Microsoft announced the Edge browser on Linux back in 2019, and ever since there have been steady progress in development of the browser for Linux.
Even though it's still in the development phase for Linux, it's making good progress.
Microsoft Edge Dev recently announced that Sign-in and Sync feature is now available for Linux users in a new update on the dev channel. This change was announced along with other updates in Microsoft Edge Dev's official Twitter handle:

Microsoft Edge version 91.0.831.x will be the first version to contain this feature. For Dev testers, this version is available with the latest development release of Microsoft Edge which is out for testing.
What this means for Linux users is that you will be able to log in with your Microsoft account and sync your favorites, passwords, extensions, and more. Many Microsoft-Linux users welcomed this change. However, at the moment, support is available only for personal Microsoft Accounts.
It is to be noted that, by default the sign-in and sync are disabled. You may need to enable a flag to see this setting. This can be done by enabling MSA sign-in experiments under edge://flags. After all, it is the development version anyway.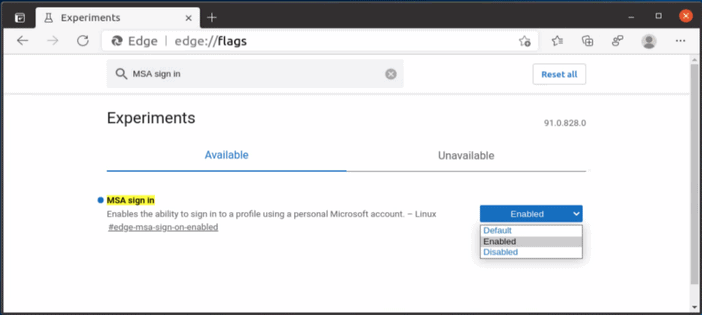 For more details on how to enable sign-in and sync on Microsoft Edge Dev in Linux, please read the official article.
Although Microsoft Azure Active Directory (AAD) support is not available yet, we might be able to see it very soon.
In addition to the sign-in and sync feature, you now have the ability to use system themes with Microsoft Edge on your Linux system. Besides, the team also found out that certain extensions such as the Microsoft Editor extension doesn't work on Linux. The dev team is working on this issue as well.
Download Microsoft Edge Dev for Linux
For excited Linux users who want to try out this feature, Microsoft Edge Dev is available for Debian/Ubuntu and Fedora/openSUSE as .deb and .rpm packages from Microsoft's Insider portal.
You can also refer to our tutorial to install Microsoft Edge browser on Linux as well.
Linux Users can also set up the official repository using command line.
So, have you tried Edge on Linux yet? What do you think about this feature? Share your thoughts in the comments below.
---
More from It's FOSS...