Servo is a rust-based experimental browser engine initially developed by the research wing of Mozilla but was later delegated to The Linux Foundation as a community-maintained project.
Since then, no significant development has taken place, even though the members involved have been trying to do their best.
Until now.
Things are looking up for Servo in 2023, as the team behind it has shared a promising roadmap.
Let me take you through it.
📢 Roadmap for 2023: Overview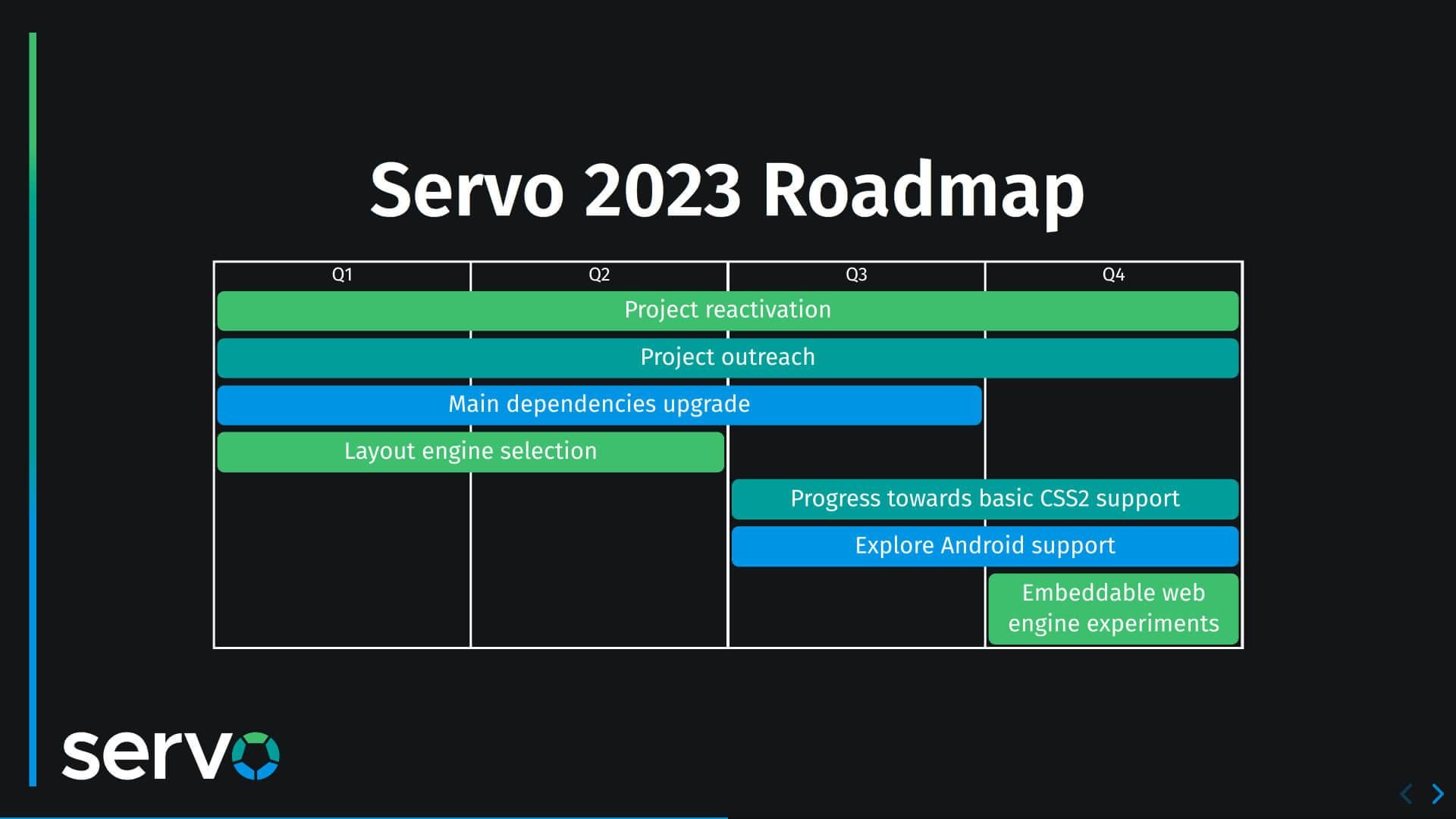 The Servo project came back from the dead thanks to the new funding they received in January.
To further solidify their intent, the development team has shared a roadmap for this year that shows a good outlook on the things they have planned.
On this, they also add:
We're restarting all the usual activities, including PR triage and review, public communications about the project, and arranging TSC meetings.

We will also make some outreach efforts in order to attract more collaborators, partners, and potential sponsors interested in working, participating, and funding the project.
They have also shared 7 goals that they want to achieve in 2023.
Project Reactivation: This is the first stage that will continue until the end of 2023 and will involve reactivating the Servo project as a whole.
Project Outreach: Fueled by the renewed activity on the project's GitHub page, they plan to make some outreach efforts by spreading the word about the project.
This will be done to attract more collaborators, companies, and partners who may be interested in contributing to or funding the project.
Main Dependencies Upgrade: Several dependencies of Servo will be worked upon as they have been in a dilapidated condition and require upgrading, such as WebRender and Stylo.
Layout Engine Selection: Servo currently has two layout engines, 2013 (the original one) and 2020 (the new one).
They will be deciding, along with the contributors and the community, which option to go with for the long term.
Progress Towards Basic CSS2 Support: After the above two things are done, they plan to work towards basic CSS2 conformance.
Explore Android Support: They want to explore the possibility of supporting Android along with other platforms, as they have already experimented with the platform in the past.
Embeddable Web Engine Experiments: For the final stage of the roadmap, they aim to make Servo into an 'embeddable web rendering engine.'
The team is also exploring possibilities in this regard by having some sort of Servo demo running on embedded devices or looking into existing projects such as Tauri.
You can go through the official announcement to learn more about the roadmap.
Final Thoughts
A rust-powered web engine could do wonders and be superior to Blink or Gecko-based alternatives.
Furthermore, another open-source alternative to something we use almost daily shouldn't be a bad thing and will let us have many options.
💬 What do you think about Servo's aim to restart things and focus on getting back on the track it was initially designed for?
---
More from It's FOSS...