MusE is a popular open-source DAW (Digital Audio Workstation) that has been one of the few DAWs available for Linux. The project has recently released the 4th version of their software with over 700 commits since their last release.
According to their release announcement:
It is with great joy we present to you the final release of MusE 4.0. A great many things have been added and improved since the last stable release, nine months ago. To give a rather useless metric about the amount of work that has gone into MusE 4.0, our code repository has had more than 700 commits since the release of MusE 3.1.1!
While there are already some impressive audio editors and Linux DAWs available. It is remarkable to see an open-source project like this prosper and grow in the way it has. And with the amount of new features being added with each new release, we can expect this project to only grow more.
What's New?
This release includes a boatload of new features, including a new tab-based UI, a dark theme, and multiple new keyboard shortcuts. The main new features include:
A redesigned user interface with a huge amount of quality of life improvements.
A tabbed UI with docks for common utility editors like Marker List, Mastertrack List, and Event List.
An all-new dark theme with many graphical improvements including lots of icons reworked in vector format.
Many new toolbars for quick access to common operations.
A lot of menu operations now list their related keyboard shortcut.
Many new keyboard shortcuts.
An AppImage for easy installation on all distributions, both for releases and the bleeding edge development version.
While we won't cover all these new features in this article, we will dive deeper into the main ones.
Redesigned UI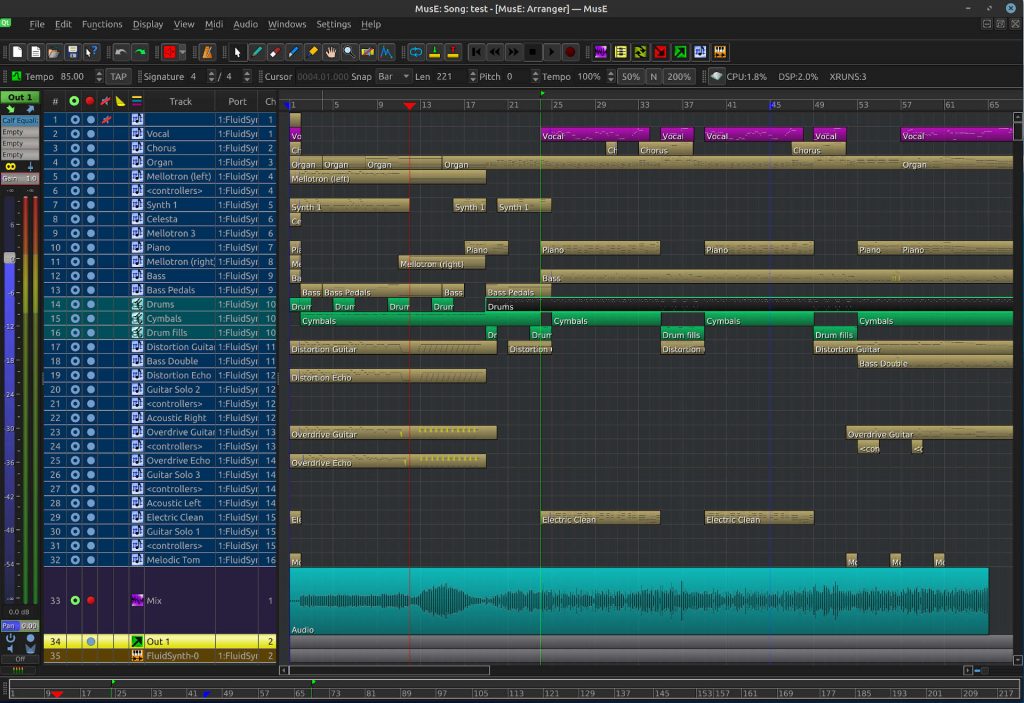 As with many open-source applications, the focus of MusE has previously been on development of the core application. This has come at the expense of a fancy UI.
With the 4.0 release, the MusE team have really stepped up their game in terms of UI. The addition of tabs and docks help immensely with retaining an uncluttered UI, while also creating more space for more commonly used tools.
Keyboard Shortcuts Galore
It can be a hassle to be constantly moving your hands between your keyboard and mouse all day. This has led to the rise of keyboard shortcuts, with almost all modern applications supporting them.
Not wanting to be left out, MusE has added even more keyboard shortcuts, resulting in a huge boost to productivity. The result of this is a much easier time navigating the UI and interacting with your music.
You might want to know some Ubuntu keyboard shortcuts along with these.
Wrapping Up
While not a complete list of improvements, we have discussed the main improvements in this release. I think all these improvements will make a huge impact on productivity and the popularity of MusE as a preferred DAW for Linux.
What are your thoughts on the new MusE release? Let me know down in the comments below!
---
More from It's FOSS...