ONLYOFFICE is a free and open-source cross-platform office suite available for Windows, macOS, Linux, Android, and iOS platforms. It also provides cloud office solutions, collaboration tools, project management tools, and more.
Recently, a new version ONLYOFFICE 6.2 was announced by the team. This release includes features such as Data validation, the ability to set up auto-format, and various improvements as well.
Let's see the important new features in this release version of ONLYOFFICE.
New Changes in ONLYOFFICE 6.2
Here is an overview of the major new changes in ONLYOFFICE version 6.2:
One of the biggest new additions coming with this release of ONLYOFFICE is Data Validation for the spreadsheet. With this feature, you can restrict entering invalid data in cells. This is very helpful when you want to create things like drop-down lists.
The Spreadsheet Editor also gives you the ability to insert slicers in pivot tables. This helps you in filtering data to understand what data is currently displayed. A custom number format feature is coming with this release of ONLYOFFICE. You can now cancel the auto-expansion of tables as well.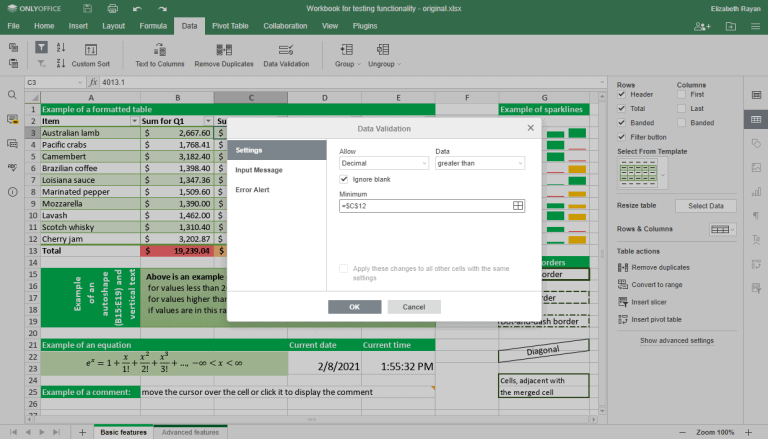 In addition to the above changes, several new spreadsheet functions are now available. They include GROWTH, TREND, LOGEST, MUNIT, UNIQUE, and RANDARRAY. The GROWTH function for instance helps you to calculate predicted exponential growth by using existing data.
Coming to the Document editor, you can now create a table of figures. It is a quite useful addition as it allows you to list and organize the tables, equations, images, charts, and shapes.
That's not all, the Presentation Editor now gives you the ability to use auto-format as you type.
Other Improvements
The interface is now available in Belarusian, Catalan, Greek, Lao, and Romanian languages. All editors now give you the ability to use Tab/Shift+Tab in some dialog windows. You can also change the color of loader to a darker one.
Besides, you can set the font size to 409px for Spreadsheet Editor and 300px for other editors. The Beta version has a new beta mark in the left toolbar.
If you want to learn more about the release and check the complete list of changes, you might want to check the changelog.
Download ONLYOFFICE 6.2
You can download the community version of ONLYOFFICE 6.2 for your distribution from the official website.
If you are feeling a little adventurous and want to see the source code, you can get it from the official Github page of ONLYOFFICE.
Have you used ONLYOFFICE before? What do you think about the new features? Let me know in the comments below.
---
More from It's FOSS...