Razer is a multinational computer peripherals manufacturer famous for its gaming hardware. However, there are currently no official drivers for any Razer peripherals in Linux. But, luckily for Linux users, the open-source community came up with OpenRazer.
In case you didn't know, OpenRazer is an entirely open-source driver and user-space daemon that allows you to manage your Razer peripherals on GNU/Linux.
Recently, the developers released OpenRazer 3.0 with support for persistent storage of effects in daemon which allows for the front-end to retrieve the effects for a device that had been set. On top of that, several new devices were added to the list of supported hardware.
Let's see these changes in detail along with other improvements in OpenRazer 3.0.
Key Changes in OpenRazer 3.0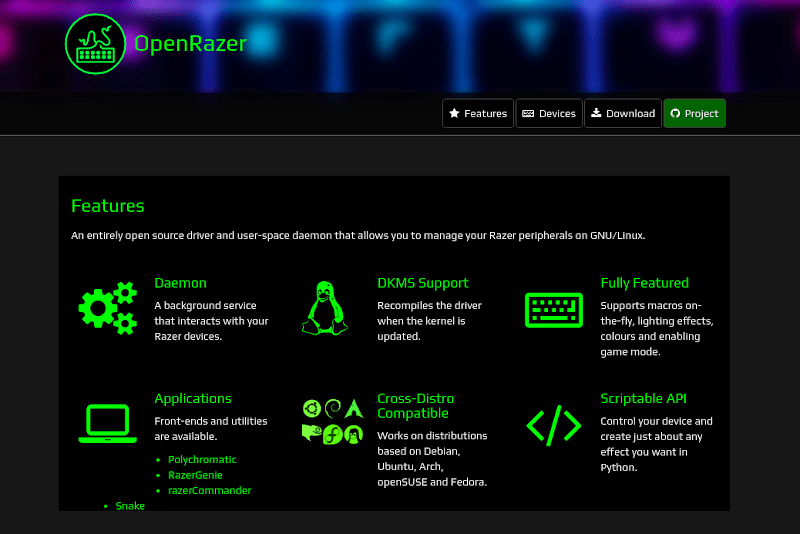 The major change in this release of OpenRazer is the addition of persistent storage of effects in the daemon. In the past, GUI front-ends had no way of getting the effect that a device had set. Now, that has changed, with the release of OpenRazer 3.0.
This release also adds support for DPI Stages for mice. In addition, a number of new devices are also supported. This includes the following devices:
Razer Blade Stealth Late 2020
Razer DeathAdder V2 Pro
Razer Mouse Bungee V3 Chroma
Razer Ornata Chroma V2
Razer DeathAdder V2 Mini
Razer Base Station V2 Chroma
Razer Firefly V2
Razer Naga Left-Handed Edition
Razer Book 13 2020
Razer Basilisk V2
Razer Cynosa Chroma Pro
Razer Basilisk Ultimate
Razer Mouse Dock
Razer Charging Pad Chroma
Razer Huntsman Mini
You can also see if your device is supported by visiting the official GitHub Page of OpenRazer.
In addition to the above changes, this release of OpenRazer also received several bug fixes.
If you want to see the complete list of changes, please read the changelog.
In addition to the driver, you should also consider installing the following applications that interact with the driver to make the most out of your Razer peripheral.
Download OpenRazer 3.0
OpenRazer packages are available for Ubuntu / Linux Mint, Debian, Arch Linux, Fedora, openSUSE, Gentoo, NixOS, Solus, Void Linux, and unofficial for Red Hat / CentOS.
If you are using an Ubuntu-based Linux distribution, you can install OpenRazer 3.0 using the PPA.
sudo apt install software-properties-gtk
sudo add-apt-repository ppa:openrazer/stable
sudo apt update
sudo apt install openrazer-meta
Arch Linux users can install openrazer-meta from the AUR. For others, see the instructions on the official website of OpenRazer to install the driver on your distribution.
If you are a beginner and want assistance with using PPA, read our complete guide on PPA.
Have you tried any Razer peripherals with OpenRazer 3.0? What do you think about the new release? Let me know what you think in the comments below.
---
More from It's FOSS...