When we first covered the news of Pine64 launching a budget Linux smartphone, we were looking forward to what PinePhone will offer.
And now when we look back, they have come a long way. It looks like they might have the potential to bring out something great and may even rival Android and iOS equipped smartphones someday.
Here, we're talking about the PinePhone Mobian, which is the fifth community edition model of the smartphone launched by Pine64. The smartphone comes preloaded with the Debian-based mobile operating system Mobian.
Previously there have been four models with the same hardware specifications, but different preloaded operating systems, namely:
PinePhone Ubuntu Touch Community Edition
PinePhone PostmarketOS Community Edition
PinePhone Manjaro Community Edition
PinePhone KDE Community Edition
Do note that the above mentioned phones come with a preinstalled mobile Linux distro, but the user has the freedom to install whatever distro they want.
In-between launches, they have been revising the hardware and software of the phone and every new launch has resulted in a more stable and defect-free phone.
Specifications & Features
The PinePhone is powered by an Allwinner A64 SOC that has a four core, 64-bit Cortex-A53 ARM CPU running at 1.2 GHz, all of this is coupled with a Mali-400 MP2 GPU
The phone is offered in two memory and storage options, a 2 GB LPDDR3 RAM/16 GB eMMC storage or 3 GB LPDDR3 RAM/32 GB eMMC storage.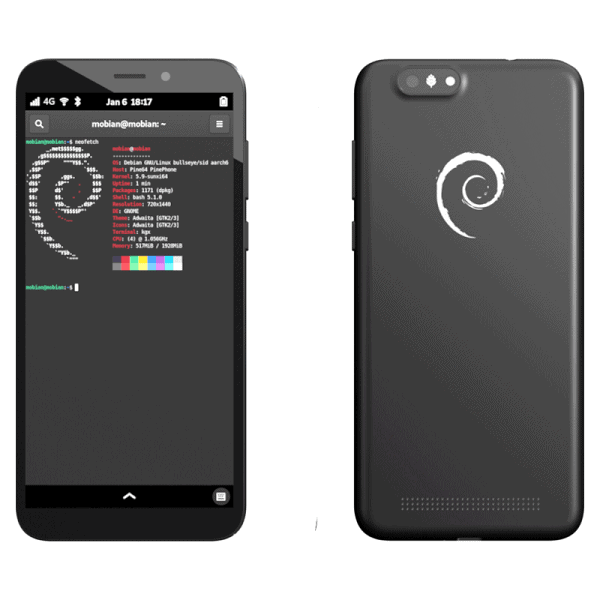 Other notable features of the PinePhone Mobian Community Edition include:
A 5.95-inch, IPS LCD rated for 16 million colours with a resolution of 1440×720 pixels and an 18:9 ratio.
microSD card support (SDHC and SDXC) for expanding storage up to 2 TB.
Micro-SIM slot with support for many network bands under LTE, WCDMA and GSM.
Wi-Fi 802.11 b/g/n with only 2.4 GHz band support and Bluetooth 4.0 with A2DP support.
The phone has two cameras, the main camera is a single 5MP shooter with an LED flash and the selfie camera is a 2MP shooter.
Audio is handled by a mono loudspeaker and a 3.5 mm stereo audio jack with mic support.
USB Type-C port for data transfer and charging the device.
Privacy switches for manually disabling features on a hardware level such as Wi-Fi, mobile network, GPS, microphone, speaker and cameras.
A removable 3000 mAh battery. The battery is based on the Samsung J7's battery, so finding a spare shouldn't be that hard.
RGB status LED, it lights up when there is a notification.
Sensors like accelerator, gyro, proximity, compass, ambient light and a vibrator for haptic feedback and call notifying.
Support for GPS and GLONASS for location based services or applications.
Price & Availability
The PinePhone Mobian Community Edition is being sold through their official website and offers two variants: a base variant PinePhone community edition and a PinePhone Mobian with "Convergence Package".
With the "Convergence Package" edition, you will get more memory (3 GB RAM), larger storage (32 GB eMMC storage) along with a USB-C Dock to charge your phone, two USB 2.0 ports, an HDMI port for video output to external display and an Ethernet port as well.
On the other hand, the base variant is equipped with 2 GB of LPDDR3 RAM and 16 GB of eMMC storage
Of course, you can expect different pricing for both the variants.
The "PinePhone With Convergence Package" costs $199.99 for developers and early adopters, at a later stage, the retail price is set to be $299. And, for the base version it is $149.99 for early adopters and $249 as the retail price.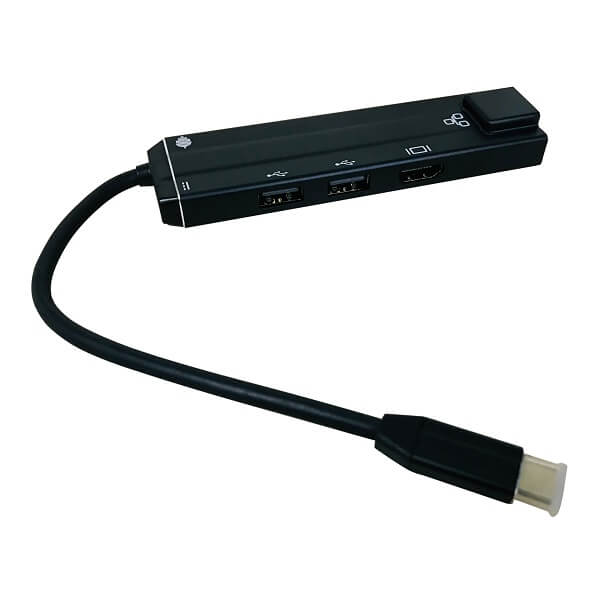 Closing Thoughts
By today's smartphone standards, the PinePhone is not that powerful. It is not meant to be, the phone is meant for developers to develop applications for the Linux smartphone ecosystem, not to break benchmarking records or to cater to a larger audience.
The official website even states this:
A small numbers of stuck or dead pixels (1-3) can be a characteristic of LCD screens. While rare, this should not be considered a defect. If you think that a minor dissatisfaction, such as a dead pixel will prompt you to file a PayPal dispute, DO NOT purchase the PinePhone. When fulfilling your purchase, please bear in mind that we are offering the PinePhone at this price as a community service to PINE64 and Mobian community. Thank you.
So, as I mentioned above, the PinePhone Mobian is for people interested in developing around the ecosystem and enthusiasts. It is also a good choice for people who are looking to support the initiative and can become early adopters. It is definitely not for general consumers as they would find the phone too lacking for their day-to-day use.
The alternative to the PinePhone can be Purism's Librem 5, it also features a similar set of features but is more pricey at $799 and aimed towards a security conscious user.
Interested in the PinePhone Mobian Community Edition? Looking to become an early adopter or develop applications? Let me know what you think about it in the comments below.
---
More from It's FOSS...