Looking for alternatives to replace Gmail or the entire Google suite, including Google Drive and Docs?
You might know options like Proton, Tutanota Mail, and a couple of others to put together a replacement. Mind if I introduce you to an all-in-one replacement?
I recently stumbled upon an open-source email service "Skiff" that provides end-to-end encryption for mail, cloud storage, and documents when updating our list of best secure email services.
Here, I share my experience with Skiff and help you better know whether you should try it.
✋
This is not a sponsored post. We have been given temporary access to its Pro plan to test things out to provide you with better insights.
Skiff: Why Should I Try It?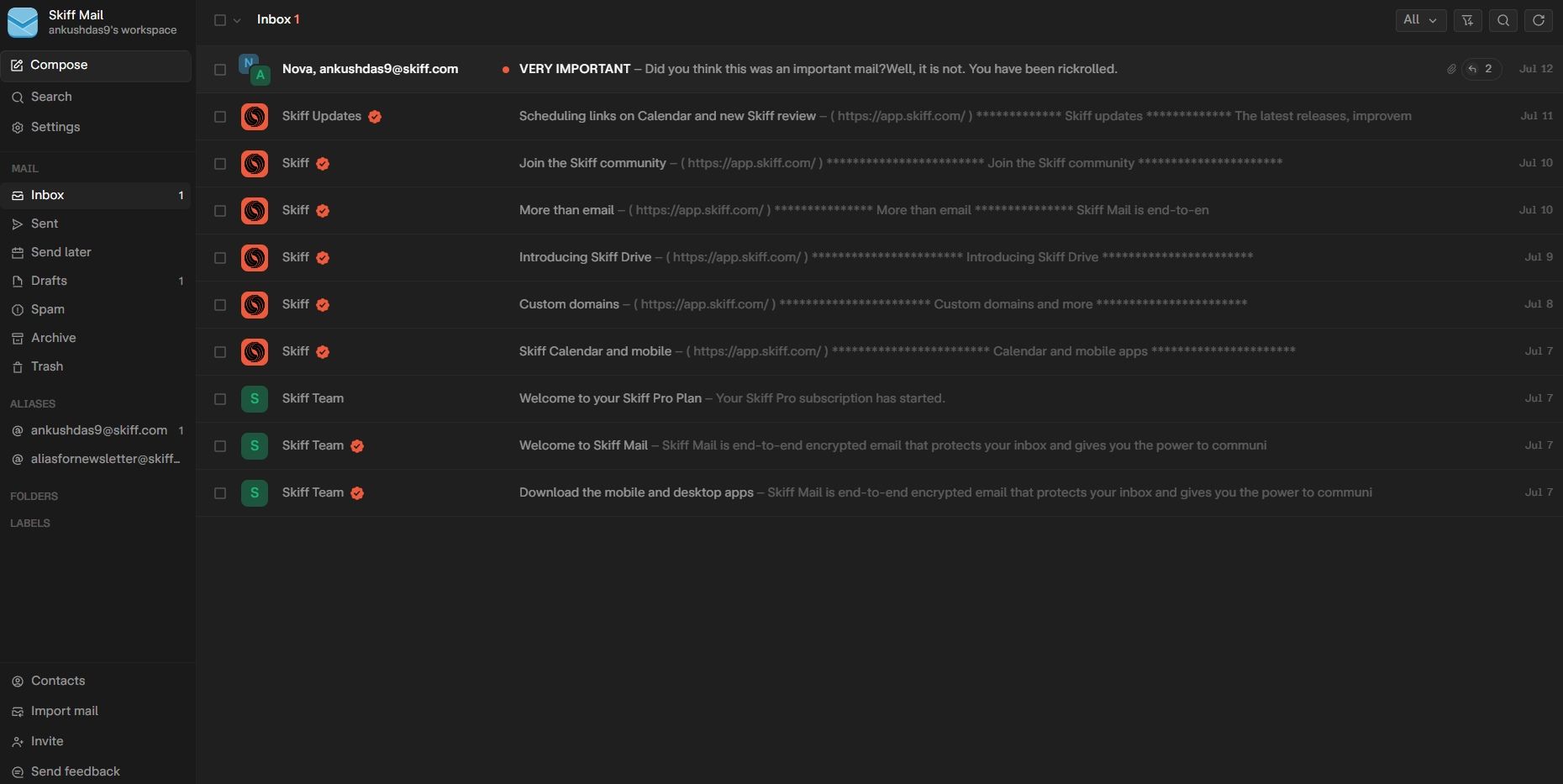 Of course, your first thought could be - why should I try it out?
Let me mention some of the key highlights that encouraged me to spend time using Skiff:
Open-Source email service (a big yes!)
End-to-End Encryption
Additional services: Cloud storage (Skiff Drive), Documents (Pages), and Calendar (also end-to-end encrypted)
Pretty user interface (a big plus for me!)
Add your custom domains or get it from Skiff Domains (with paid plans)
It is available via the web, desktop (for Windows), and mobile (iOS/Android).
💡
You can get started for free with limited features like full-text search, access cloud storage, aliases, and custom domain with paid plans.
Suggested Read 📖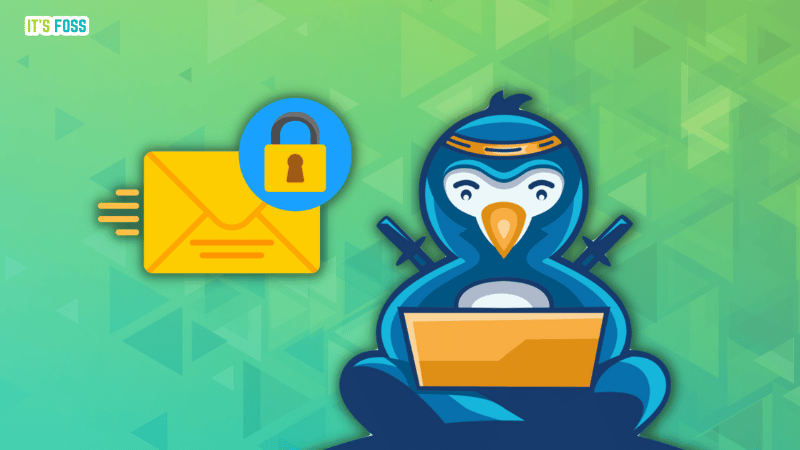 Initial Impressions
The best part of the Skiff experience is the user experience. The process of signing up for an account was a breeze and straightforward.
I always prefer something with a sleek user interface, even if it lacks some functionality (which is not the case here).
Aesthetics? Eye Candy? You can label it whatever you like 😉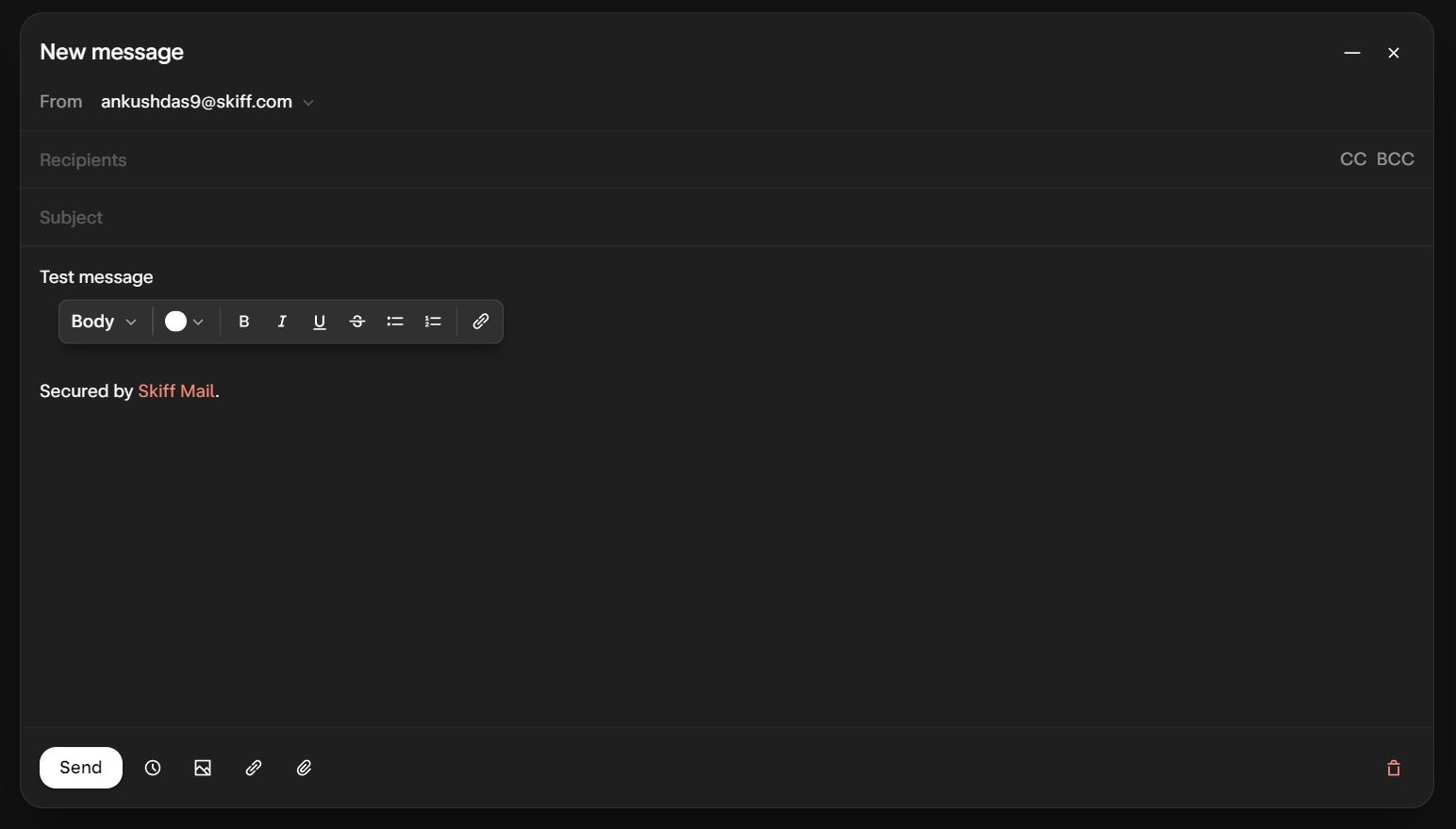 Skiff's UI reminds me of Apple's services. The design language feels similar to Apple Music and iCloud Drive, which is not bad.
And, if you like it just like me, you can explore the source code of its UI.
🚧
Skiff has only made the source code for its Mail app, UI, and some libraries/components available on GitHub. So, not every aspect of the product is open-source. Also, some readers noticed that the licensing might not be entirely open-source compatible.
The layout is clean and well-organized for desktop, web, and mobile.
For mobile (I tested it on Android), the layout is slightly different than you are used to with Gmail or Proton Mail. So, it would come down to personal preferences.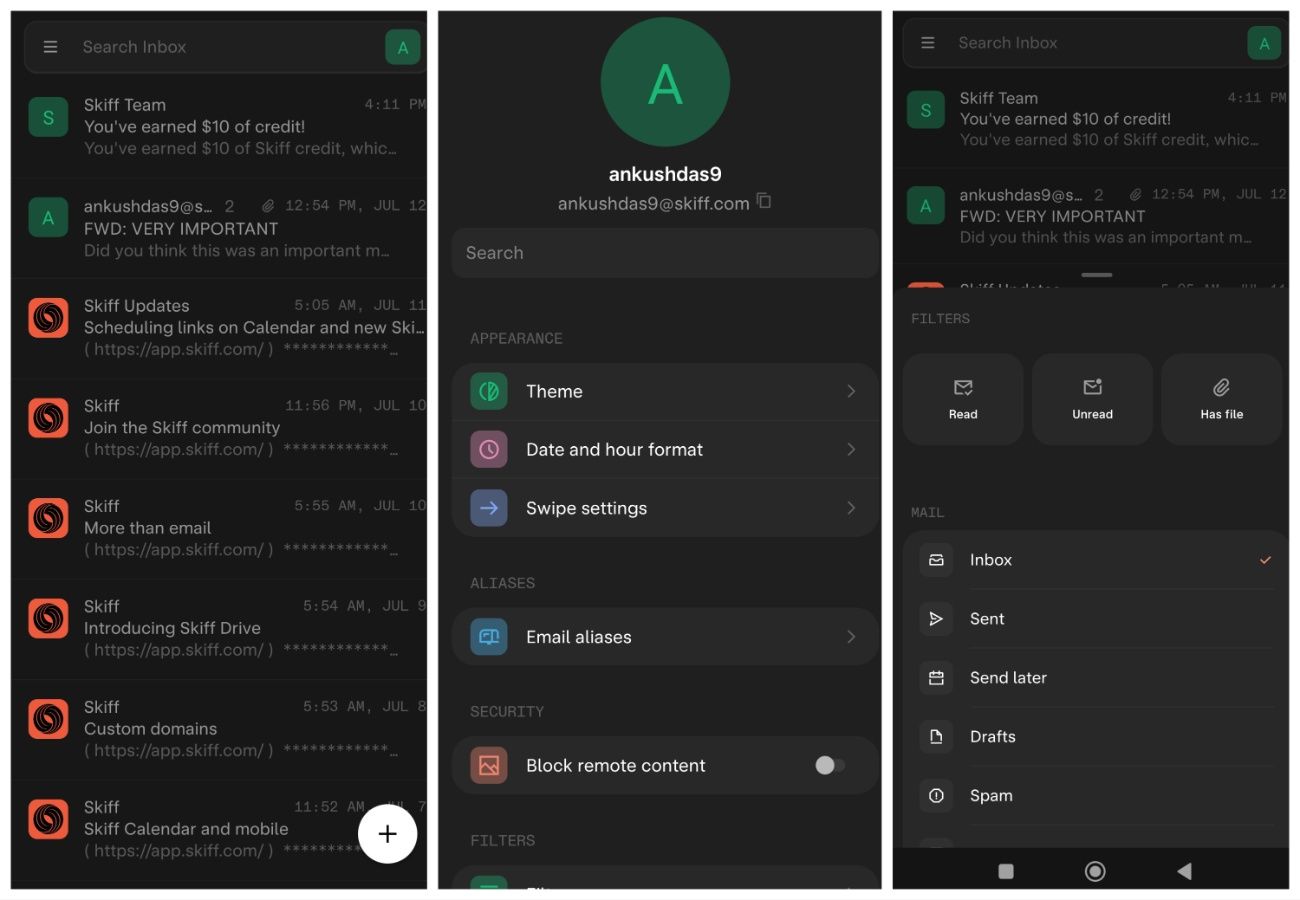 However, it is a clean and organized experience.
📋
Unfortunately, no desktop client is available for Linux yet.
First, what kind of security settings do we get as a privacy-first email service?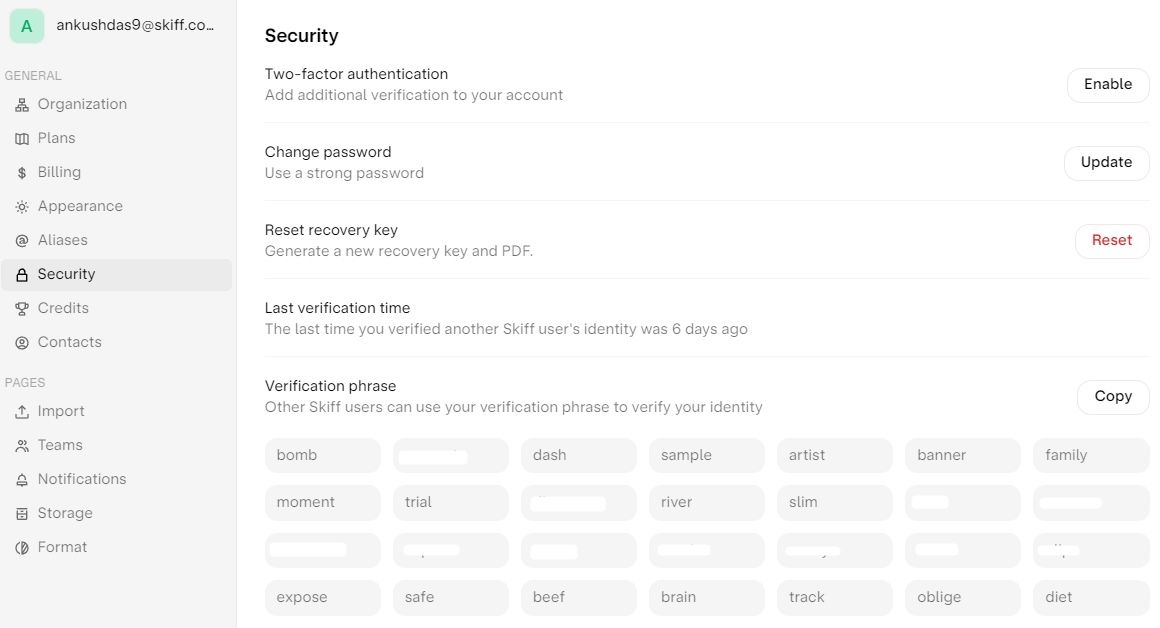 The necessary two-factor authentication, the ability to block remote content, password update, recovery key, and the verification phrase (to let other Skiff users verify your identity).
Sounds good, right?
Well, yes, and no. The ability to manage multiple sessions seems absent at the moment. And Skiff's developers mention that it is in the works 🚧
Furthermore, to the settings, we have appearance tweaks, which are plenty good, a dark mode, a white theme, and two layouts.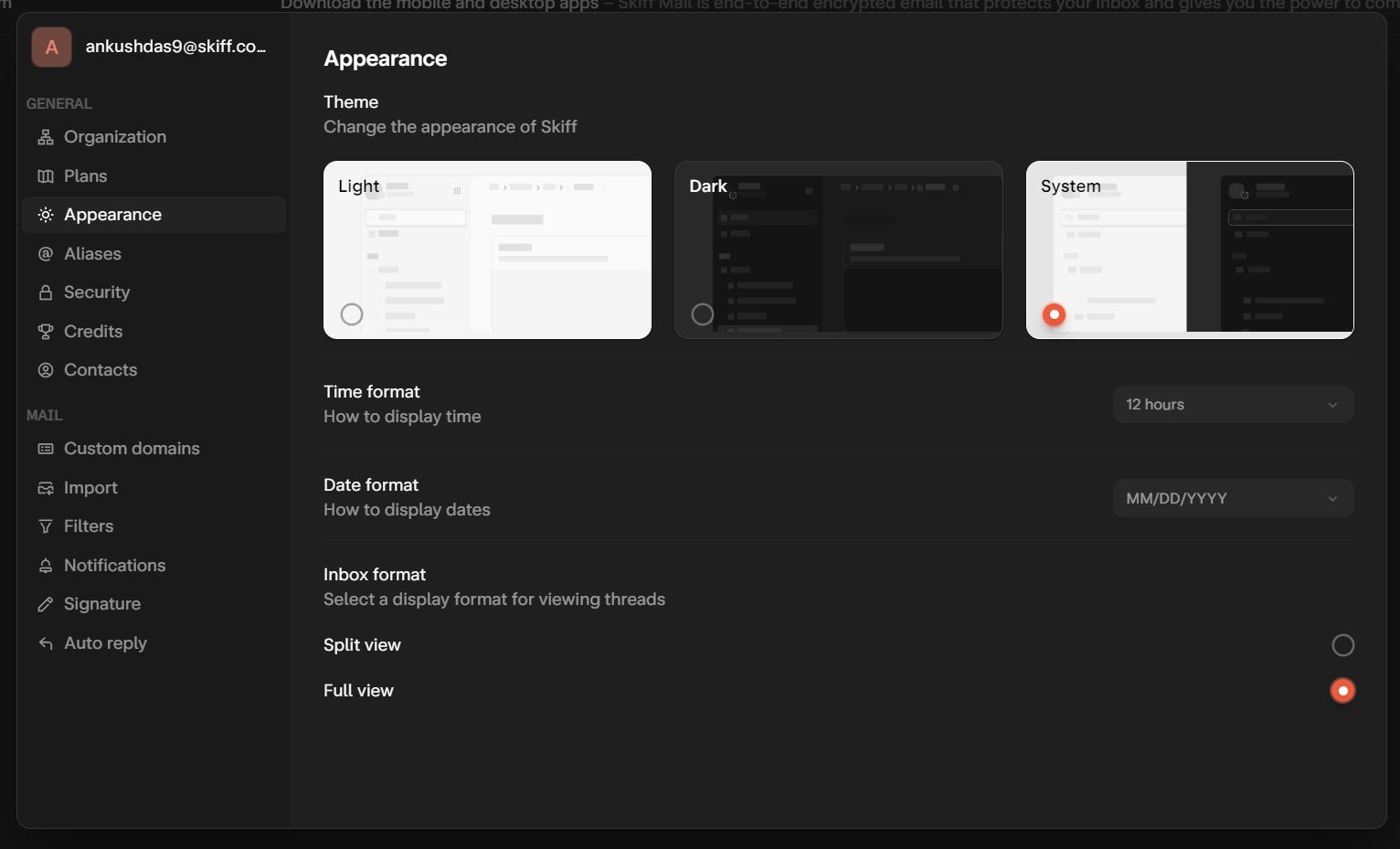 Not to forget, the important one, supporting imports from Gmail, Outlook, Proton Mail, and more. It is also interesting to see that you get some credits added to your account, which you can use to upgrade your account and experience the premium tier for free.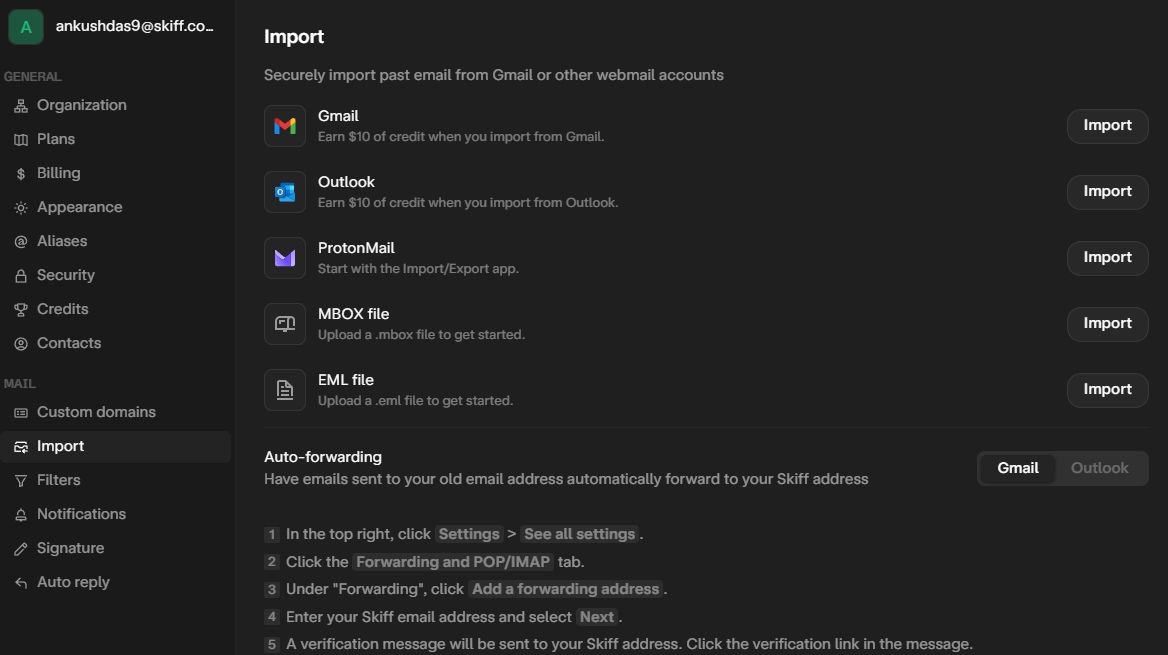 One of my favorite features - creating and managing aliases.
With Skiff, you are not limited to email aliases but also wallet aliases. You can connect a crypto wallet from Coinbase, BitKeep, Brave, and others to send/receive email utilizing Web3.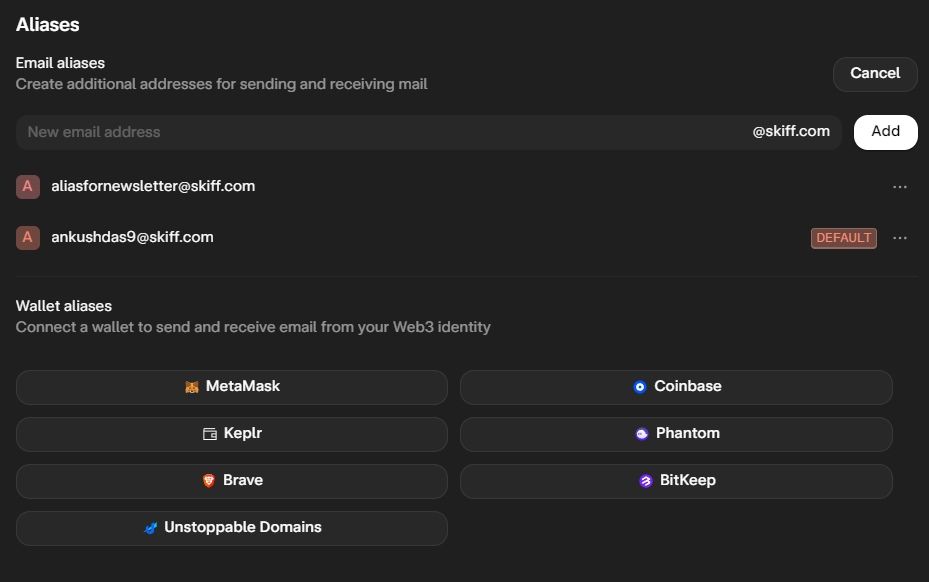 You can refer to some of its help pages or blog posts (like this) for a specific wallet to know how you can make each of those work.
For email aliases, you can choose to create aliases using Skiff or opt for some specialized tools to protect your email address.
Suggested Read 📖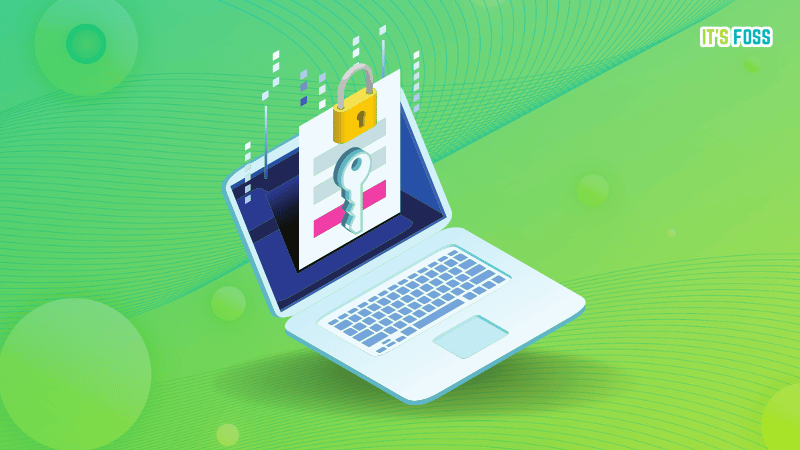 Skiff Mail: Some Unique Observations
Skiff Mail is not just "yet another privacy-first" email service. And there are several reasons for that.
Some of them include a few unique functionalities that you get with Skiff (except crypto integration):
Pages to create/store documents securely
Ability to use Skiff's server or IPFS (decentralized technology) for file storage
Skiff Pages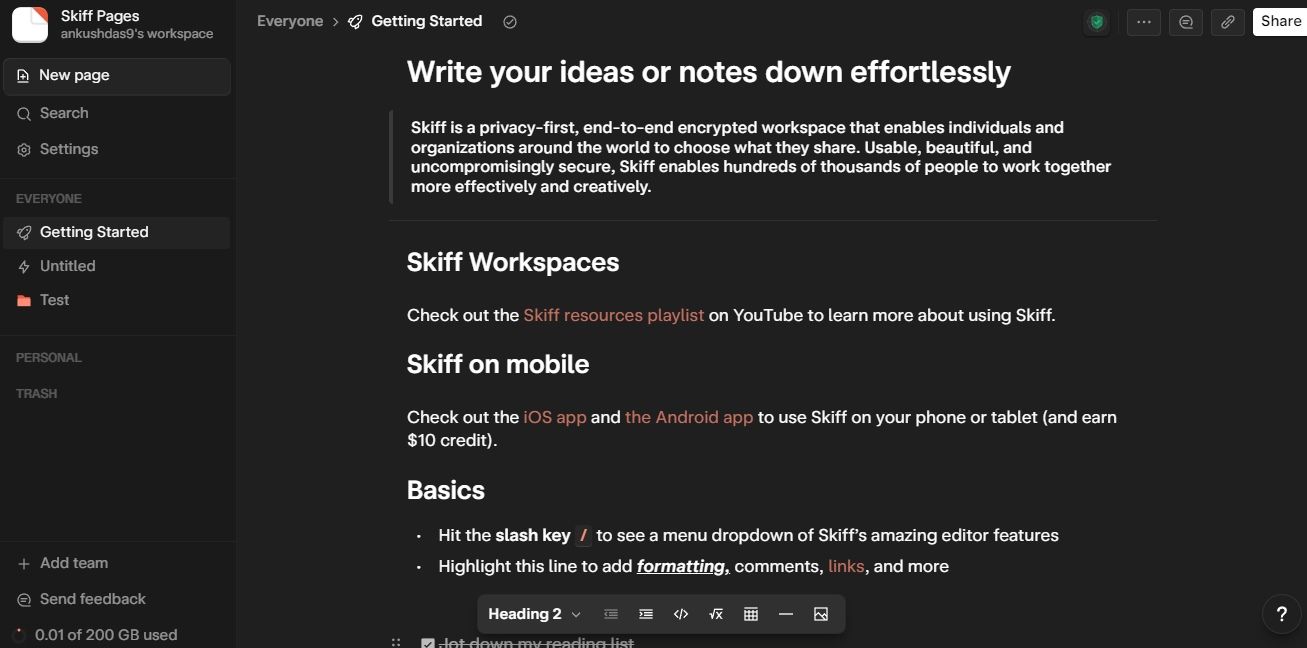 As an alternative to Google Docs or similar, you can use Skiff's Pages for private documents, wikis, and note-taking.
You can export the documents as PDF or Markdown files, or just keep them organized within Skiff utilizing end-to-end encryption for enhanced privacy.
It also supports real-time collaboration and the option to publish the document to the public using a generated link.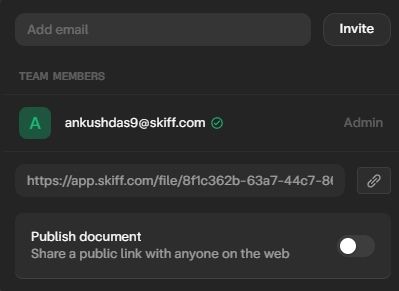 Of course, you might be using solutions like CryptPad and privacy-focused note-taking applications.
But, it would be convenient if you got a replacement in one platform, right? And, with Skiff, you get just that.
Encrypted Cloud Storage With IPFS Support

While we already get end-to-end encryption file storage like some good cloud storage services, there's more to it on Skiff Drive.
You can use Skiff's server to securely host your files or the integrated decentralized storage using the IPFS protocol. In either case, you can access your files the same way; only the back-end storage type changes.
Suggested Read 📖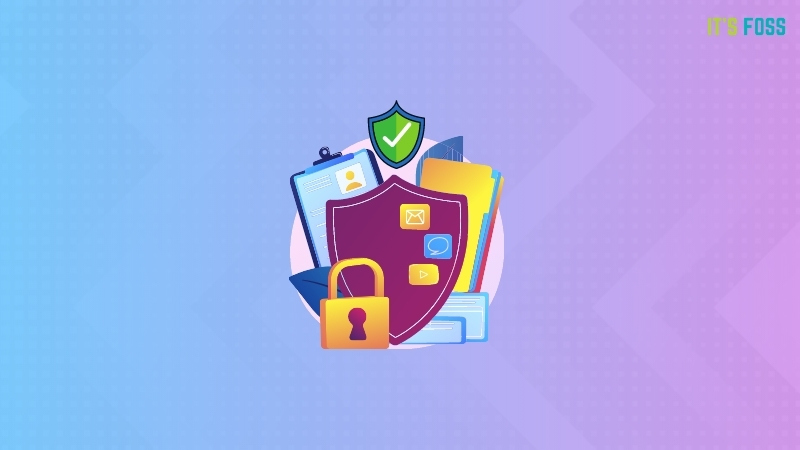 Skiff's Offering is Competitive: So, is it good?
Skiff is a reasonably new mail service with some essentials on the development roadmap.
That being said, it is still a competitive option compared to other secure email providers.
As per my experience with the web client and mobile apps (on Android), I only noticed some subtle inconveniences like:
Deleting a mail in a thread moved the entire thread to trash
Lack of information cards / link to relevant documentation or help articles when accessing specific options
Quick action buttons when accessing an email to trash/unread etc.
Considering the user-facing documentation and information cards improve, the platform should be more accessible for users to understand new features like Web3 integration and IPFS decentralized storage.
Skiff sounds like an all-in-one platform replacement if you want a privacy-focused service packaged with essentials.
It deserves a try; after all, you do not have to pay anything to get started ⚡
---
More from It's FOSS...