Digital audio workstations (DAW) have been an indispensable tool in the arsenal of music production professionals for quite some time now.
Sadly, for Linux, the options are limited, with the most popular ones being the open-source DAWs, Ardour , Audacity, and Bitwig as an interesting closed-source choice.
Sure, they are not necessarily bad. However, some of the most popular DAWs like Cubase, Nuendo, and Pro Tools used across the music industry are not available for Linux 🥺
But that changes with 'Studio One' 🎉
It is a very popular DAW by PreSonus (manufacturer of professional audio equipment) that has been around since 2009. Many professionals prefer to use Studio One as a viable alternative to the likes of Steinberg Cubase, Avid Pro Tools, Apple GarageBand, etc.
🚧
Studio One is not FOSS. We cover it here for its added Linux support.
Studio One: Landed on Linux! 🐧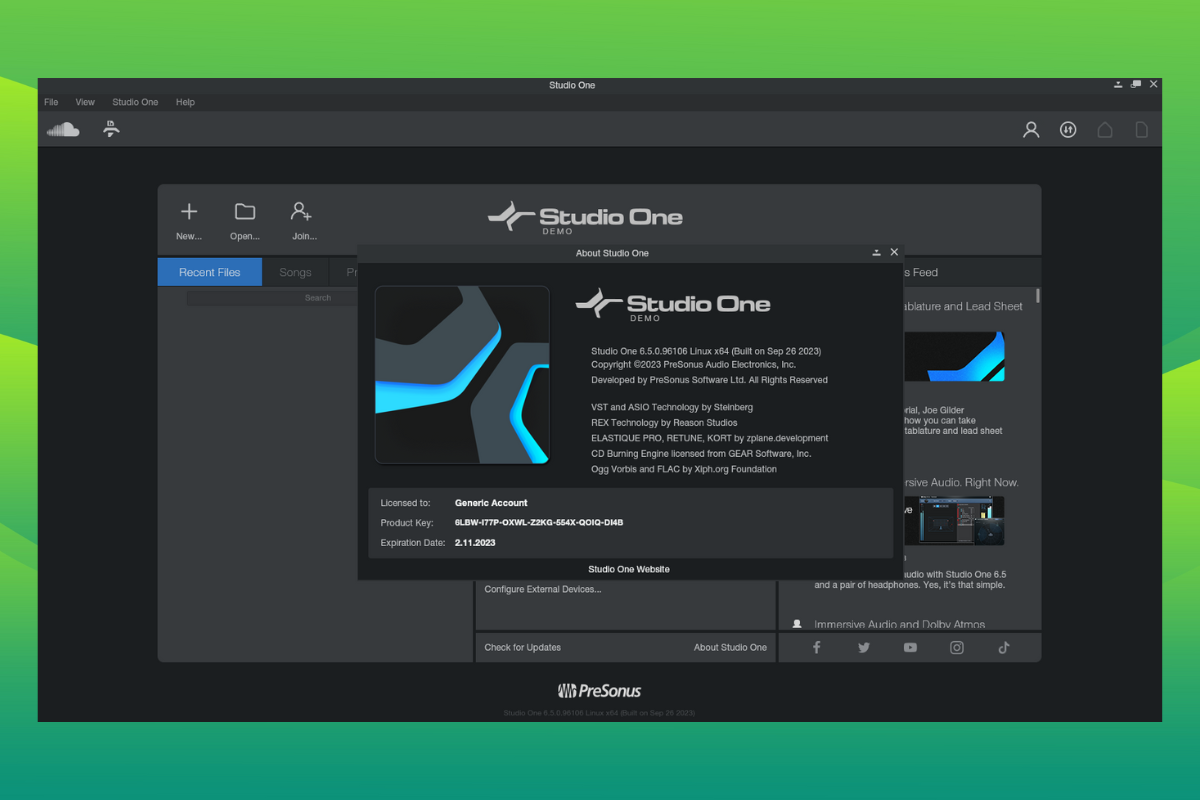 Initially made available as a public beta, Studio One 6.5 is being offered as the first release for Linux.
It officially mentions Ubuntu 23.04 as its system requirement, with Wayland session.
As a DAW, it has a plethora of features that let you create, record and mix music or other types of audio. Some of its key features include:
Multitrack tools
In-built beat maker
Support for Scratch pads
Harmonic editing for audio and MIDI
Whether you own PreSonus audio equipment or not, this is exciting news!
It should influence other commercially successful DAWs to consider Linux as one of the platforms for music producers and artists 🤩
And, that could be a massive boost for Linux desktop adoption, improving the current market share 📈
Not just that, having support for all three platforms for a seamless cross-platform experience is also a plus for Studio One! You can create music with the help of your favorite DAW without getting locked on to one platform, that has a nice ring to it, right?
The catch: PreSonus doesn't provide any official Linux-related support for now. That could change with a stable release in the near future.
However, the company recommends using the Linux section in their user forum to discuss any Linux-related topics for troubleshooting and sharing feedback with the community.
🚧
Considering this is a beta release,
you should not use it for production yet
. The developers have noted known issues on the Studio One
Linux support page
. Some features such as CD burning, video support, DDP import/export, etc. outright do not work in the Linux version.
Even though Studio One is a close-sourced offering, its release for Linux should result in Linux becoming a more welcoming platform for audio engineers, producers, and even artists!
📥 Get Studio One [Beta]
For accessing the public beta, you will first have to sign up for one of the subscription plans. I suggest you go for the 30-day free trial first to see how it works on your Linux system.
Head over to the official website to get started.
💬 How excited are you about this news? Have you tried it yet? Share your thoughts in the comments below!
Via: omg! ubuntu
---
More from It's FOSS...