Thunderbird is a popular open-source desktop email client. While it offers several useful features to help you keep your emails private and secure, using it with an encrypted email service would be an absolute bliss, right?
Well, in a recent announcement, Thunderbird announced a partnership with Mailfence, which happens to be one of the best secure email services.
If you have a Mailfence account (or want to create one), you can manage that using Thunderbird's integration.
Create a Mailfence Account using Thunderbird
With the addition of this integration, you no longer need to leave your desktop email client but easily get to create a Mailfence account right within it.
In the announcement, Thunderbird mentions:
We wanted to give our users an alternative, and we want to continue to show our users that you can communicate online and leverage the power of the Internet without giving up your right to privacy. Mailfence is a great service that we want to share with our community and users, to show there are good options out there.
All you have to do is, navigate to "Account Actions" and then head to Get a new Email address to get started.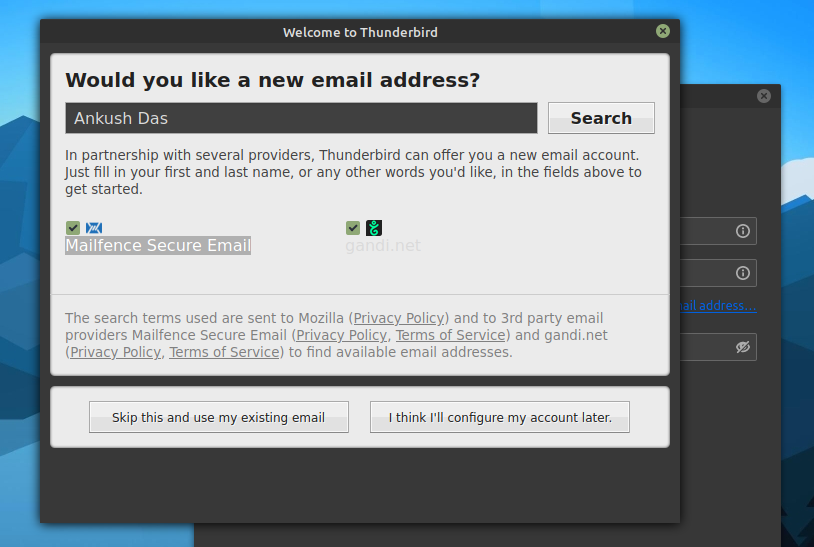 For now, you can use your Mailfence account to sync and connect with your contacts right from the desktop client.
The Mailfence partnership gives you another good reason to keep using desktop email clients (considering that web interfaces are taking over).
You will also be able to auto-sync your emails and calendar soon enough, just not yet.
If you need help setting up or synchronizing your Mailfence account with Mozilla Thunderbird, you can refer to the official Mailfence guides as well.
Personally, I haven't tried Mailfence in a bigger capacity, but I think it's good enough. What are your thoughts on the integration of Mailfence with Thunderbird? Is it something you needed?
---
More from It's FOSS...