Known for its simplicity and ease of use, Tux Paint is a drawing app primarily aimed at kids.
Tux Paint has come a long way since its initial release in 2002 on Linux and is now available on many other platforms.
The latest release of Tux Paint 0.9.27 comes just after four months of its previous release. Just like the previous one, this release is feature-rich but includes new additions and improvements.
Let us take a look at the key changes.
What's New?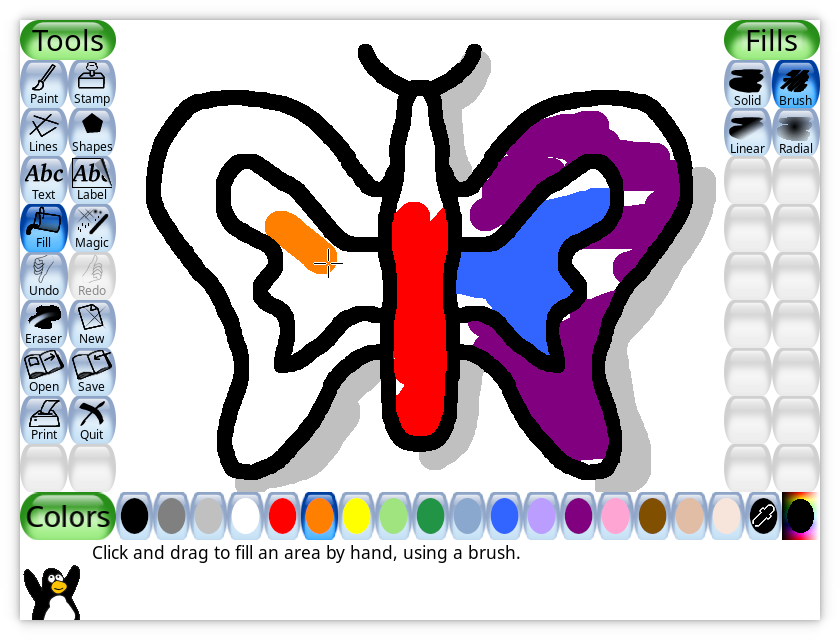 In case you didn't know, it's one of the most popular open-source paint apps for Linux out there. And, with the latest addition, it will be a compelling option for your kids to explore their creativity.
New Magic Tools & Drawing Tools
A total of six new Magic Tools have been added (Panels, Reflection, Stretch, Opposite, Smooth Rainbow, and Lightning).
You can comfortably make four-panel comics thanks to panels that shrink copies of your drawing into a 2-by-2 grid.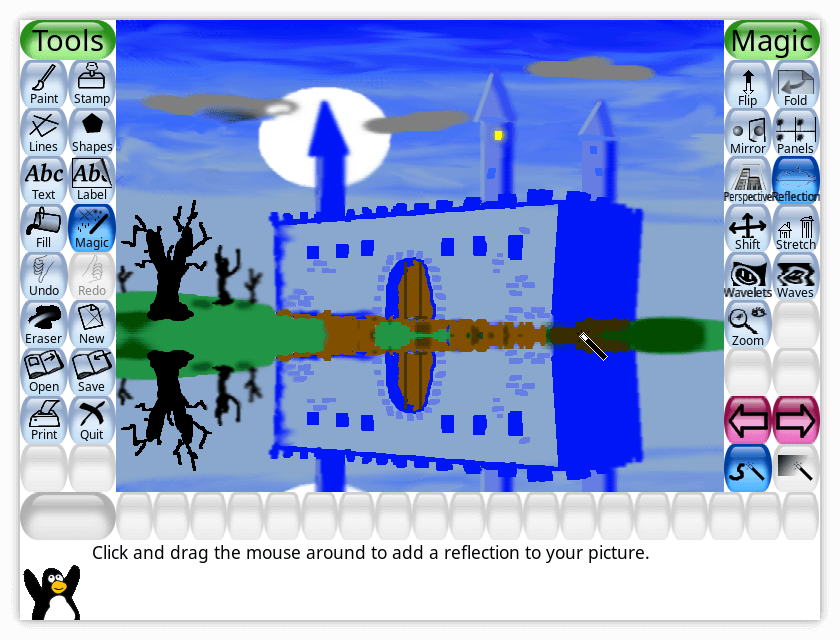 To let you quickly create lightning and reflection, you get ready-made tools now. Want your artwork to stretch weirdly like a fun-house mirror? Stretch has got you covered.
There's now a tool that helps you put opposite colors to your selection to complement what you have in your drawing. Also, you get a variation of the classic rainbow tool as "Smooth Rainbow" that could prove to be better.
Improvements to Existing Magic Tools
Quite a few tools like Cartoon and Halftone have received enhancements along with Blocks, Chalk, and Emboss to modify an image all at once.
The Paint and Line tools now let you rotate the angle of your brush stroke. The brush shape selector visually indicates this. Another tool that is frequently used, Fill, now supports a freehand painting mode within a confined area for interactively coloring.
Other Enhancements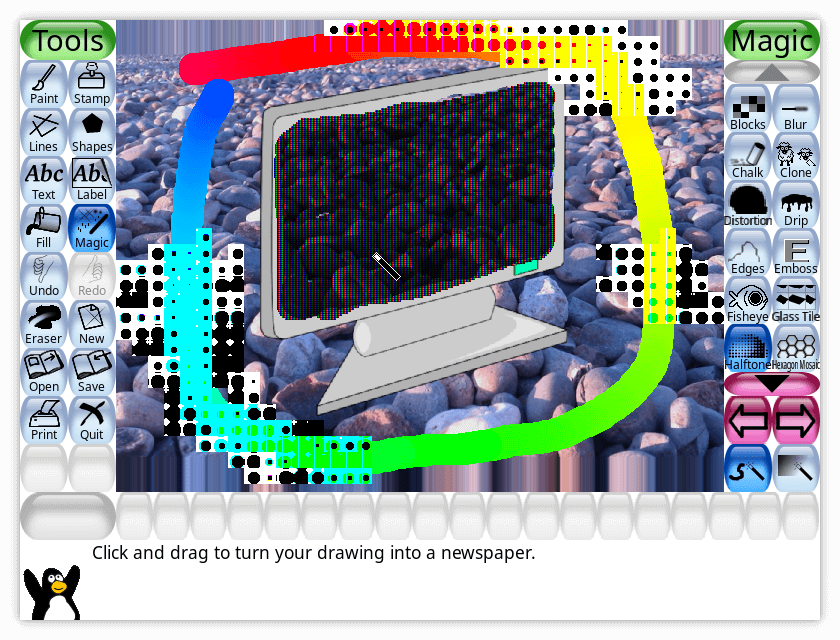 Users will now find it easier to find their preferred magic tool as similar ones have been grouped into collections. This is indeed a very helpful feature.
The user documentation has also been updated and includes more details for compiling and installing Tux Paint from the source.
Tux Paint Config., the program that comes with Tux Paint to let you tweak the settings, enhances support for large and high-resolution displays.
For Windows, Tux Pain 0.9.27 adds support for "Recycle Bin." So, whenever you discard a photo from the open dialog, it goes to the recycle bin without losing access to it.
If you are curious to learn more, you should go through the official press release.
How to Install Tux Paint 0.9.27 in Linux?
There are several ways by which you can get Tux Paint up and running.
The easiest way to install it on any Linux distribution is to search for the Flatpak package on Flathub. If you're new to Flatpack, you can check out our Flatpack guide to learn more.
They also offer RPM packages for users who use Fedora and Red Hat Linux.
You can also find it available for Windows, macOS, and Android. Head to its website to explore all the options for download.
---
More from It's FOSS...