Zulip is a free and open-source team communication platform that offers a range of customization options, unlike Slack.
We looked at it last year, and it seemed like a promising open-source alternative to Slack with its features and accessibility.
It is free to get started using its official hosted version on the web but comes with certain restrictions (like message history retention limit and no custom branding).
If you want to unlock its full potential and host it with them, you can opt for the standard subscription/enterprise options. Either way, you can self-host it to get control of your data and maintenance.
Recently, it announced the release of its next major version, i.e., v.6.0.
Suggested Read 📖
🆕 Zulip 6.0: What's New?

This release has brought a lot of improvements and feature additions to Zulip. Some of the key highlights include:
Read Receipts
Mark Messages as Unread/Read
Redesigned Sidebar
Improved Navigation
Scroll to Bottom Button
Public Access Option out of beta
And these are just the tip of the iceberg; you can find more technical details in its release changelog linked at the bottom of this article.
🛠️ User Experience Improvements
Zulip has finally received the option to mark messages as unread/read; this should be handy for managing your chats.
You can also see read receipts for any message; it doesn't matter who sent it or where it was sent.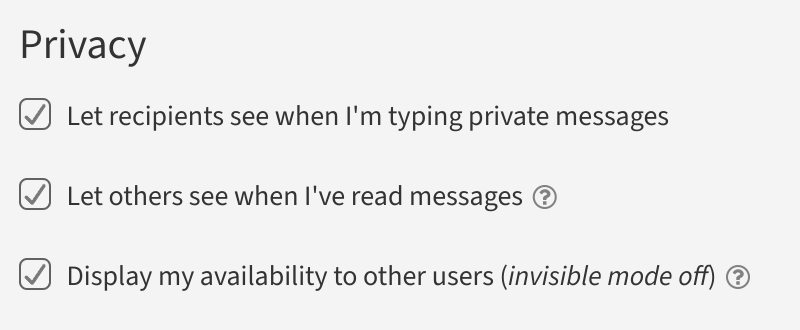 This can be turned off to stop sharing your read receipts, and administrators can also choose whether to enable it for their organization.
Then there are the navigation updates: You can now see all your recent conversations in the same place, and the left sidebar has been redesigned to make navigation easier.

The 'Streams' section of the sidebar has gotten more organized and now features different labels such as 'Pinned', 'Active', and 'Inactive', with muted streams at the very bottom.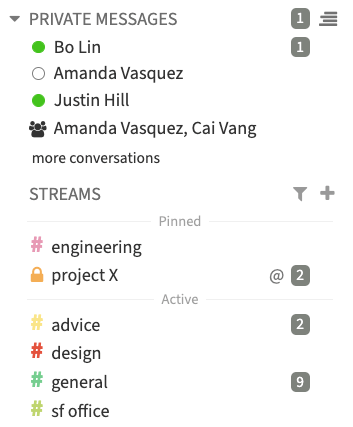 Another addition is the scroll-to-bottom button, which lets you quickly skip to the bottom of the screen.

Other user experience improvements include:
Ability to see who reacted to a message
Support for Unicode 14 emojis
The right sidebar now shows the user status message by default
Improved message notification emails
Feature Additions
You can now select up to two custom profile fields to add to your user card and turn on 'Invisible Mode' to appear offline to other Zulip users.
In addition, the public access option is no longer in beta and is now generally available for organizations.

💡
The public access option enables a user to make Zulip Streams (or channels) shareable through a link to anyone on the Internet. If you want someone to view the discussions of a channel (say, a support/issue stream), this should come in handy. However, a user needs to log in to write a message.
You can now also compose a message in a different conversation view and send it to someone else if you change your mind.
Self-Hosting Improvements
This has been a mixed bag of support being added and support being dropped.
Zulip now supports Ubuntu 22.04 LTS but drops support for Debian 10 and PostgreSQL due to them approaching end-of-life.
Other than that, the documentation for self-hosting has received a few tweaks here and there.
📥 Download Zulip 6.0
To learn more about the technical bits or download Zulip 6.0, head over to the official GitHub repo.
You can also refer to the documentation for help with installation or upgrading.
💬 Do the new features encourage you to try it out if you already use Slack for team communication? Share your thoughts in the comments below.
---
More from It's FOSS...