ExTiX is a desktop Linux distribution based on Debian and Ubuntu that offers alternative desktop environments. It also comes with several pre-installed applications and system tools.
Recently, the developer of ExTiX has announced the release of ExTiX Deepin 21.1, which is based on Deepin 20.1. Let's take a look at what's new with the release.
In case you didn't know, ExTiX is developed by Arne Exton, a Swedish developer who is quite known for Exton Linux distributions. ExTiX versions are usually based on Ubuntu with alternative desktop environments like LXQT and KDE.
In October last year, the developer released a distribution based on Deepin 20 known as ExTiX Deepin, which is a live version of the Deepin distro and ExTiX 21.1 is an update to that.
Overview: What's New?
Here is an overview of ExTiX Deepin 21.1:
Based on Deepin 20.1 (latest).
You can run ExTiX Deepin directly from your RAM
Spotify and Skype apps are pre-installed.
Ability to run ExTiX Deepin in VirtualBox or VMware using Deepin Installer.
Create customized respin of the distro using Refracta Snapshot.
Includes Cactus Package Manager.
Watch Netflix while running Firefox.
The latest release seems to be an impressive upgrade. Let me briefly explain the changes to you below.
Latest features of ExTiX Deepin 21.1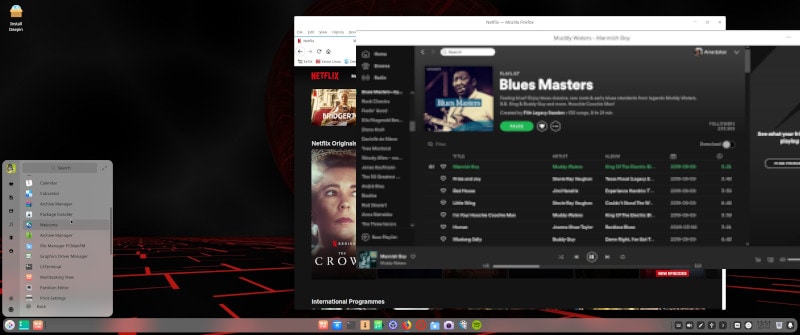 With ExTiX Deepin 21.1, you can create your own customized live installed Deepin system using Refracta Snapshot. This tool enables you to create a bootable live-CD image of the current distro that you are running.
If you have a system with 24GB RAM or more you can use Refracta Snapshot to create a customized version of Deepin while ExTiX is running live from a DVD or USB.
You can also use Refracta Snapshot to create your own live version of Deepin if you have installed ExTiX on your hard drive. The whole process of creating a new ISO will take about 10-15 minutes.
ExTiX 21.1 includes Cactus Package Manager, which is a wrapper for various package managers like APT and packman. As a result, you can install packages using simple commands.
It also includes the latest stable custom Linux kernel version 5.10.4-exton which is similar to Linux kernel 5.10.4.
With the latest version, you can also install ExTiX Deepin on VirtualBox or VMware using the Deepin Installer, which has also been improved.
What's more, is that applications like Spotify and Skype are preinstalled. ExTiX also comes with various Deepin tools like Deepin Screen Recorder and other utilities. With Samba client, you can easily use Deepin File Manager or PCManFm to connect to your Windows computers in your Home Network.
Final Thoughts
Overall, the latest release sounds exciting. Especially, because of the new functoin that lets you run ExTiX Deepin from RAM if you have enough to support this action. The distro also allows you to choose a language before you enter the Deepin Desktop.
Of course, ExTiX uses a customized version of Deepin Installer which the developer refers to as the 'Reborn version of Deepin Installer.
Above all, ExTiX Deepin comes with updated packages and the latest Linux Kernel version.
This is a distro suitable for people who want to try out a live Deepin distribution with some tweaks on top.
What are your thoughts on this Deepin based Distro? Will you try this distribution? Let me know in the comments below.
---
More from It's FOSS...