The popular Arch-Linux based distribution, Manjaro's latest stable release arrives with Linux 5.10 Kernel along with three fresh desktop environment choices – Gnome 3.38. KDE Plasma 5.21, Xfce 4.16, and other changes. This release is code-named 'Ornara' and comes after the last release Manjaro 20.2 Nibia.
Let's take a look at this release of Manjaro OS.
Key Changes in Manjaro 21.0 (Ornara)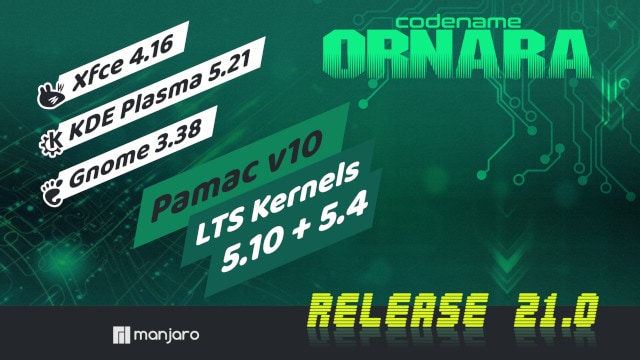 Here is an overview of the changes in desktop environments available with Manjaro 21.0.
Gnome Desktop Update
This release of Manjaro comes with the latest Gnome 3.38 desktop with some improvements. With this update, it replaces the previous split view for frequently used apps and the app menu with a single customizable view that allows you to organize and reorder your apps into custom folders.
Besides, a new Parental Controls option lets you manage parental controls for standard user accounts which is available in the settings.
In addition to that, the GNOME Shell can now drive multiple monitors with different refresh rates.
It also got one more upgrade, the screen recording infrastructure in GNOME shell can now take advantage of PipeWire and Kernel APIs to reduce resource consumption and improve responsiveness.
KDE Plasma Desktop Update
Coming to the Plasma desktop variant, you can now reach and run your apps faster and easier with the app launcher of Plasma. It features two panes to make it easier for finding your apps. It also integrates an improved keyboard, mouse, and touch input.
Also, the new Plasma System Monitor is there, which provides an overview of current system activities and resource usage in your Plasma desktop. Moreover, Plasma Firewall is now available as a new page in the settings. With this program, you can set up a firewall for your system.
In addition to the above changes, the Media Player's widget now includes a list of the application currently playing music in the header as a tab bar.
Xfce Desktop Update
For Xfce users, Manjaro 21.0 comes baked with Xfce 4.16, which is the latest stable version of the desktop environment.
Updates were made to the window manager as well as improvements around compositing and GLX.
The display dialog now offers support for fractional scaling along with highlighting the preferred mode of a display with an asterisk and adding aspect ratios next to resolutions.
Coming to the settings manager, work was done to improve the search and filter capabilities. Also, new features such as pause for copy/move operations, support for queued file transfer, remembering view settings per-directory, and support for transparency in GTK themes are available with the Thunar file manager.
Other Changes
Since this release comes with Linux Kerner 5.10 LTS, drivers are up-to-date. For those who wish to keep older hardware and receive support, Manjaro also offers 5.4 LTS-Kernel minimal ISO.
Another significant change is Manjaro's Calamares installer. If you enable GeoIP, it will automatically select that country's language as default. Now, if you want to change the language, you can do it as well. 
The Installer also ships a table of 'best guess' keyboard mappings, allowing native language input. However, it is to be noted that usernames and passwords should be in US-ASCII due to limitations of the login-system.
If you want to learn more about this release, please take a look at the official forum post of Manjaro regarding the release.
Download Manjaro 21.0
You can download Manjaro 21.0 from its official website and choose your favorite desktop variant.
What do you think about this latest release of Manjaro? Let me know in the comments below.
---
More from It's FOSS...