Manjaro 21.1 "Pahvo" is now available. This release brings many major improvements, especially in terms of desktop environments and the installation process.
Although the version number suggests a small upgrade, that can't be anything further from the truth, especially if you use GNOME or KDE.
New Features in Manjaro 21.1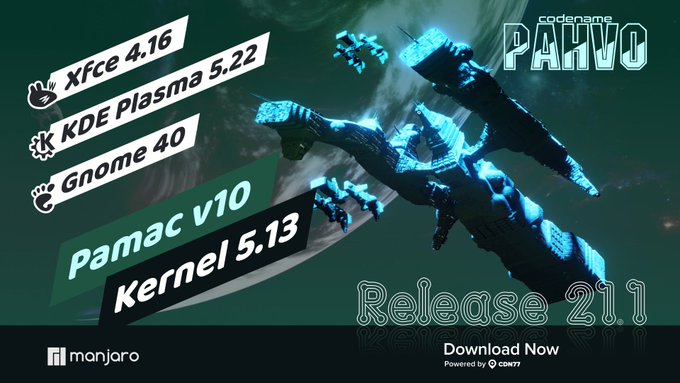 Perhaps the most noticeable change, GNOME has been updated to version 40. This brings all the amazing new features of that release to Manjaro, even if it is still months after it was released on Arch Linux, the distribution Manjaro is based on.
Other new features in this release include:
New Manjaro legacy layout
New Firefox theme to make it more consistent with other Gnome applications
Plasma 5.22 with new wallpapers and more
Linux kernel 5.13
Enhanced support for btrfs
New Manjaro Legacy Layout
As you may remember, many community members disliked the looks of GNOME 40, causing them to stick with older versions such as GNOME 3.38. Fortunately, it appears that the Manjaro team has come up with a solution for those disgruntled by the changes.
This comes in the form of Manjaro Legacy Layout, which aims to modify GNOME to look similar to the GNOME 3.x series. In my experience with Manjaro 21.1, it does this quite convincingly, although the new theme does give it away slightly.
New Firefox Theme
Manjaro has provided a distinctly Manjaro-ish theme for many apps and desktop environments, and Firefox has been the latest app to receive this treatment. This comes in the form of the gnome-desktop style theme, which is now enabled by default. Overall, this should provide a much more consistent look with the rest of the desktop environment.
As always, this theme can also be disabled by the user if they want the default Firefox experience by going into the Gnome Layout Switcher app.
KDE Plasma 5.22
Back in June, we first got a look at Plasma 5.22. Now, this update has landed in Manjaro 21.1. This gives Manjaro users access to all the new features in Plasma 5.22.
These new features include adaptive transparency and the new Quick Dial page in System Settings. I am sure that many users will be extremely excited about this upgrade.
Linux Kernel 5.13
Finally, this release brings the Linux kernel version 5.13. Thanks to this, users can now get FreeSync over HDMI, new drivers, and improved device support.
If you want to see what else is new in Linux 5.13, I suggest you check out our coverage of its release.
You can read the full list of changes in the release announcement.
How To install Manjaro 21.1
If you are already a Manjaro user, you are in luck. To upgrade, run the following in the terminal:

sudo pamac upgrade

Once the command finishes, reboot your computer, and you should be now running Manjaro 21.1!
If you aren't already a Manjaro user, you can download the ISO file and use a tool such as Balena Etcher or Rufus to flash it onto a USB drive. From there, it is as easy as booting from the USB and following the on-screen instructions.
---
More from It's FOSS...