Pinta is a free and open-source drawing app for Linux that offers a ton of features in a relatively small package.
It is one of the best Linux tools for digital artists available.
Its last major release was in January 2022, introducing improved Hi DPI support, GTK 3 port, and more.
Marking 2023's first release, Pinta 2.1 promises to offer even further refinements.
Notice the new Pinta icon in the image above? Well, that's one of the changes.
Let's see how this release pans out.
🆕 What's New in Pinta 2.1?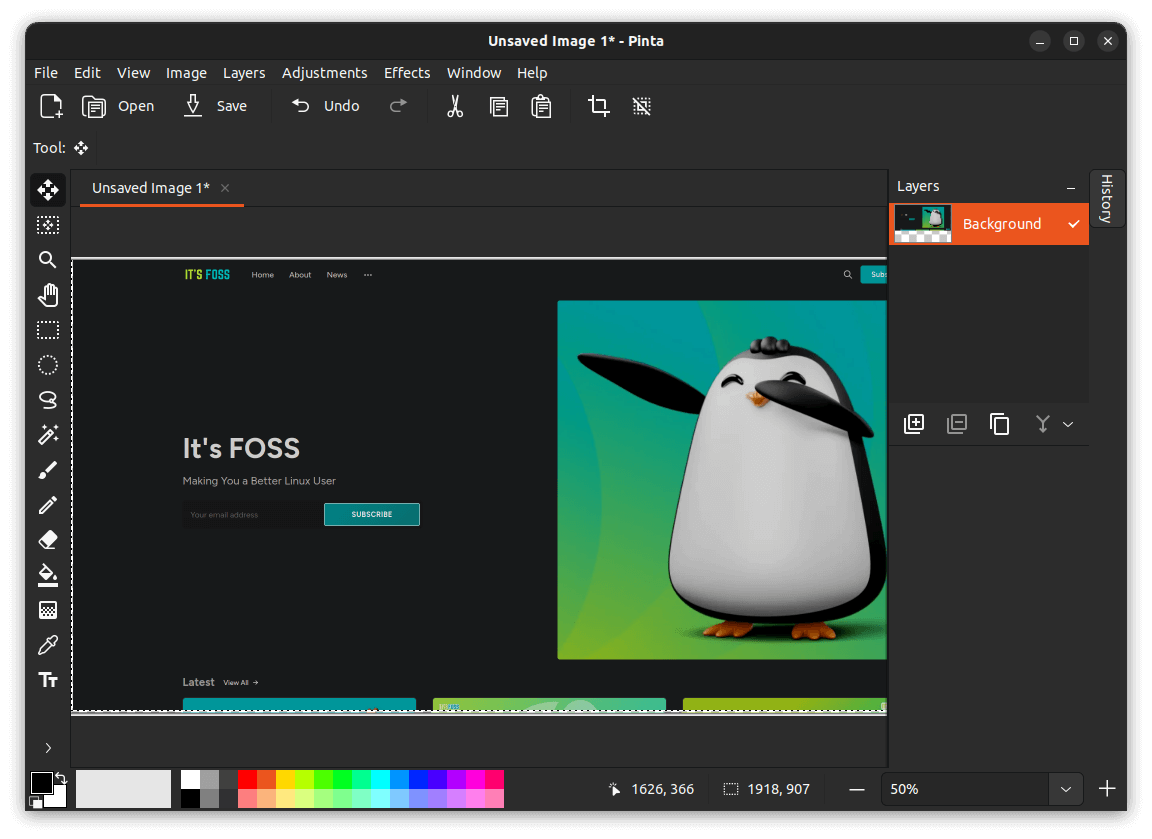 Pinta 2.1 is offering plenty of new improvements; some notable ones include:
WebP Support
Improved .ora Support
Enhanced Handles
Dark Mode
Improved File Dialog
Various Bug Fixes and Changes
WebP Support: Pinta finally has support for WebP files, but it does not come out of the box. For Linux users, the webp-pixbuf-loader dependency is required to enable WebP support.
📋
Unfortunately, WebP support is not included in the Flatpak and Snap builds of Pinta 2.1. Even if you have that library installed on your system. So, you probably have to build it from the source or use WebP files on Windows/macOS only.
Improved .ora Support: With Pinta 2.1, hidden layers are now round-tripped properly for .ora files.
Furthermore, when you save a .ora file, a flattened image is now included in the archive.
It is like this because it is required by the spec to accommodate the viewer software.
Enhanced Handles: The selection move and shape control point handles are now more intuitive, especially when working on zoomed-in or small images.
Dark Mode: Pinta has finally received full support for dark mode across the app; all icons, toolbars, dialogs, etc., are now in high-res SVG format.
Improved File Dialog: The file dialog now uses MIME types on Linux, allowing valid image files with unknown extensions to be included in the image file filter.
Various Bug Fixes and Changes: Apart from the changes I listed above, here are some that are also worth mentioning:
Upgraded to .NET 7.
New 'Transparency Mode' in Gradient Tool.
Standard GTK about dialog.
The gradient tool now updates properly while drawing transparent colors.
The new screenshot command now uses the XDG portal.
If you want to go deep into the technical details of the release, head to its release notes.
📥 Download Pinta 2.1
Pinta 2.1 is available in the Snap store, as well as on Flathub. The repositories include an outdated back, so you can safely ignore it.
You can also try building it from the source code and explore other download options for Windows/macOS.
---
More from It's FOSS...