Rainbow Six Siege is a popular multiplayer FPS game that utilizes the BattleEye anti-cheat engine.
Primarily, it does not support Linux. However, now that anti-cheat engines like BattleEye and Easy Anti-Cheat have added official support for Proton, many Linux users hope to get support for popular multiplayer titles that did not work with Linux.
Of course, you can always have Windows in dual-boot to play those titles. But, many users use Linux exclusively and cannot play Rainbow Six Siege even if they want to (or have it in their Steam library).
And, even with the official BattleEye support added for Proton, the game dev team for R6 Siege hasn't worked on Linux support yet.
Do they have any plans to work on enabling Rainbow Six Siege for Linux? What are they waiting for?
Ubisoft Wants More Linux Users to favor Proton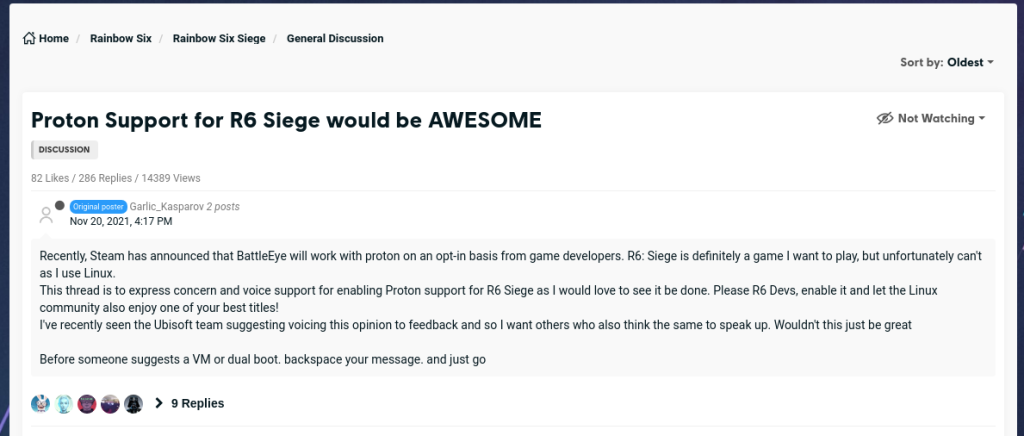 The same question was asked in Ubisoft forums about a week ago, which received a response from a Ubisoft Support Staff.
The support staff mentioned:
Hey! Thank you for reaching out here on the forums about Proton support for Rainbow Six: Siege.

We appreciate that you wish for this to be implemented, however as other support agents have advised we are only able to pass this feedback on to the development team.

Hopefully, other players will reply here in favor of Proton support and the development team may then look to implement it.

If you need anything further please let us know.

Thank you for your time.
So, if enough players encourage the need for Proton support, the game developers may start looking to implement it.
As of now, several Linux users have replied to the thread and have asked to make it happen. If you haven't already, make sure to head to the forum link and join in!
But do we have to show interest in forums if there's already official support for Linux? It should not take a lot of effort, right?
Rainbow Six Siege on Linux: Thoughts
Well, it might sound easy on paper, but practically, there's more work to do for the game developers to ensure that the game works as expected after enabling the Proton support.
That being said, Ubisoft as a company should not shy away from adding Proton support from their side, considering there is a significant user base of Linux users wanting to play multiplayer titles.
Not to forget, there's Steam Deck as well (that comes with Steam OS 3, based on Arch Linux/Manjaro). So, Steam Deck + Linux desktop gamers should make up for plenty of users who would appreciate the game running on Linux.
Considering, Rainbow Six Siege is one of my favorite multiplayer titles where I have spent 1200+ hours (but I haven't got the chance to play it for a while). While I have Windows in dual-boot, I am more interested in playing it on Linux.
I am sure there are players like me and users who exclusively use Linux who already own the game or want to play it.
Here's to hoping that Ubisoft listens to Linux gamers, which would encourage more game studios to enable support for Linux!
Via: NME
---
More from It's FOSS...