GeckoLinux is an openSUSE-based Linux distribution which focuses on overall usability and a polished experience.
Compared to other Linux distributions, GeckoLinux is fairly new, considering that it came in to existence about 5 years ago. But, don't let that fool you as this distribution has got a very rapid development cycle with three flavors on offer:
GeckoLinux Static Editions: This is currently based on openSUSE Leap 15.2 with a periodic release cycle and a long-term support.
GeckoLinux Rolling Editions: This is based on openSUSE Tumbleweed and has a stable rolling release approach.
GeckoLinux NEXT editions: This has a stable openSUSE Leap base and additional repositories to get latest desktop environment versions.
With openSUSE as the base, GeckoLinux is a very secure and versatile operating system that can handle anything the user throws at it. The package offered is appealing to both, experienced Linux users and new users who are looking to explore new distributions.
Recently, the team behind GeckoLinux announced the release of an update for all of their 'Rolling Editions' with updated desktop environments.
Overall, let's have a look at what the new release has on offer.
What's New?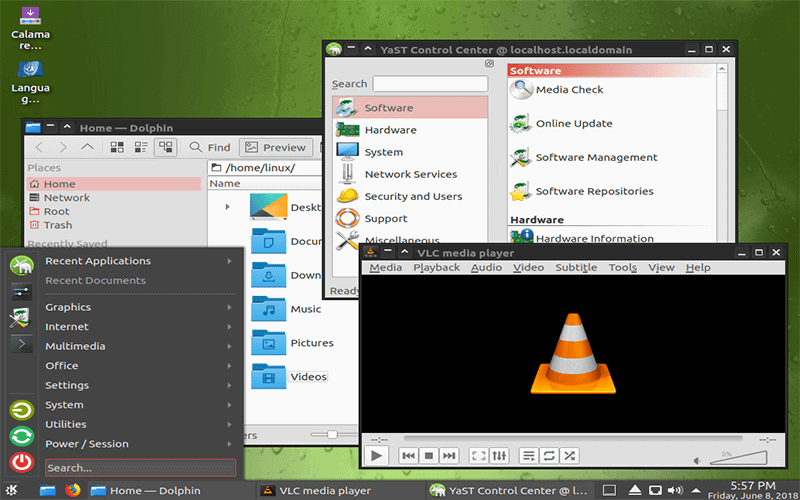 The most important update with the new release is the inclusion of the Plasma 5.21 and Xfce 4.16 desktop environments for their rolling release editions.
With Plasma 5.21, the latest KDE Framework 5.79 and KDE Applications 20.12 are on offer. In addition to the improvements offered by Plasma 5.21, the developers have also updated a few user interface elements and fixed a few bugs.
Other than that, you will also find new ISOs that include GNOME 3.38, Budgie 10.5.2, Cinnamon 4.8.6, Pantheon, MATE 1.24.1 and LXQt 0.16. Both, Budgie and Cinnamon have received additional bug fixes that include improved behavior of Nemo desktop icons and a few other fixes.
The new release features enhanced support for proprietary media formats, this enables users to play content that feature restricted media codecs. It also features support for proprietary hardware drivers and firmware.
All thanks to the inclusion of the Packman repository that has enabled support for these.
In addition to that, pre-configured repositories of Google and Skype can be found out-of-the-box along with Calamares 3.2.27 installer and Linux Kernel 5.10.16.
Download GeckoLinux Rolling Editions
You can download the latest release from their official website under the "GeckoLinux Rolling editions" category or their SourceForge projects page where they offer no less than nine different ISOs with different desktop environments.
You can refer to the official wiki page for installation instructions or more information on GeckoLinux.
---
More from It's FOSS...